Sri Lanka's main Tamil party vows civil disobedience
Posted by Editor on March 14, 2010 - 4:14 am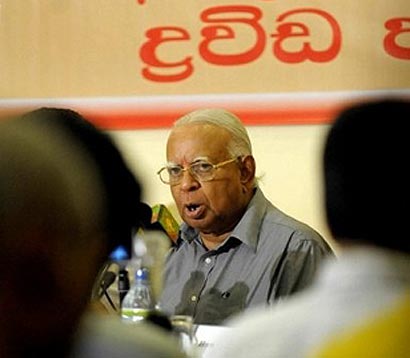 COLOMBO (AFP) – Sri Lanka's main Tamil party on Saturday vowed to launch a Gandhi-style civil disobedience campaign to press a long-standing demand for regional autonomy for their ethnic minority. The Tamil National Alliance (TNA) in its manifesto for April parliamentary elections renewed its demand for extensive regional autonomy — after Tamil Tiger rebels who fought in their name were crushed last year.
"If the Sri Lankan state continues its present style of governance without due regard to the rights of the Tamil-speaking peoples, the TNA will launch a peaceful, non-violent campaign of civil disobedience on the Gandhian model," the party said.
The TNA was a puppet of the Tamil Tiger rebels who were crushed by security forces in May last year after 37 years of fighting. The United Nations has said up to 100,000 people were killed in the conflict.
On Saturday the alliance said it would lobby neighbouring India and the international community to ensure the island's Tamil community — 12.5 percent of the population — gets a greater say in the administration.
The Tigers agreed to a federal state in December 2002 but Norwegian-brokered talks collapsed in 2006 leading to more fighting that eventually resulted in the Tigers' annihilation last year.
The TNA leadership has repeatedly distanced itself from hardliners who demanded outright independence for Tamils in the mainly Sinhalese country of 20 million people.
"Power sharing arrangements must be established… based on a federal structure in a manner also acceptable to the Tamil-speaking Muslim people," the TNA said in its latest manifesto.
The TNA, a coalition of moderate Tamil parties, has 22 seats in the outgoing parliament, but the various elements have split following the crushing of the Tigers, weakening their bargaining position.
Latest Headlines in Sri Lanka