Fonseka to face military trial
Posted by Editor on March 12, 2010 - 4:13 am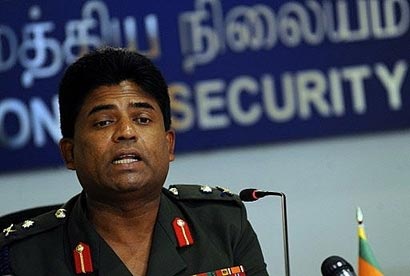 BBC – By Charles Haviland – (Photo – AFP)
The Sri Lankan armed forces have announced that the former presidential candidate and former military chief, General Sarath Fonseka, will be put on military trial next week.
He's to face seven charges under two broad areas and the military says the trial process is likely to be over before next month's general election in which Fonseka intends to stand.
Sarath Fonseka will face two courts-martial, both staffed by three major-generals with a rear admiral serving as judge. One court-martial will try him on three charges of playing politics while still in uniform. The other will try him on four counts of breaking rules on military procurement.
Sarath Fonseka Campaign
The charges will be laid next Tuesday and Wednesday at the naval headquarters where General Fonseka is detained. The exact wording hasn't been revealed and the trials will be behind closed doors. Fonseka denies any wrongdoing.
The military spokesman told the BBC Fonseka can have his own lawyers present and appeal to the higher civilian courts if found guilty. He expected the initial trial to be "over very soon".
It's not clear whether the detainee would be able to contest the April parliamentary election if the verdict went against him. But the general's supporters say his detention during the election campaign is politically motivated. Senior officials have publicly accused Sarath Fonseka of plotting a coup and the assassination of President Rajapaksa and they say he'll face a civilian trial too.
He rejects the charges and has angrily refused to cooperate with the military investigation so far. His lawyers have challenged his detention at the Supreme Court but the next hearing isn't until late April.
Latest Headlines in Sri Lanka