Sri Lanka's 'Nanotechnology Centre of Excellence' opening tomorrow
Posted by Editor on October 20, 2013 - 9:15 am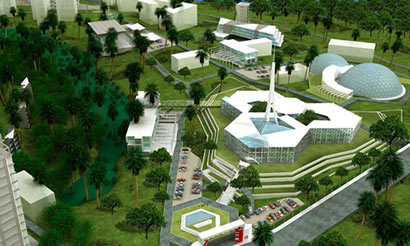 Sri Lanka 's first Nanotechnology research center and Nanoscience park will be declared open by President Mahinda Rajapaksa on October 21.
Sri Lanka Institute of Nanotechnology (SLINTEC) together with the Ministry of Technology and Research laid the foundation in June 2012 for the commencement of construction of the park which is named as Nanotechnology Centre of Excellence (NCE).
It was constructed in a 50 acre land in Pitipana, Homagama in Colombo district with an investment of Rs. 2,081.5 million, of which the government's investment was Rs 1,771.5 million, with the private sector investing Rs 310 million. MAS, Brandix, Dialog, Heyleys, Loadstar and Lankem are the private stakeholders of the project.
The NCE aims to produce new products based on natural materials suitable for the competitive world market, and to implement research and development programmes to identify and solve local and international issues in the fields of agriculture, health and water purification etc.
The Sri Lanka Institute of Nanotechnology (Pvt) Ltd. was established in April 2008 as a private Company under the Companies Act. It has been engaged in developing applications for nanotechnology through research and development since August 2009 with private sector partners.
(Source: Government News Portal)
Latest Headlines in Sri Lanka