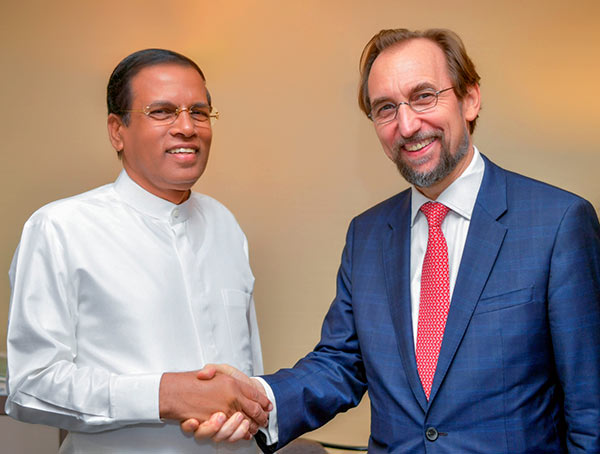 President Maithripala Sirisena says Sri Lanka is performing for the betterment of its people with much responsibility, in keeping with the charters of UN, as a member of United Nations. He said the government is taking the process to ensure human rights and reconciliation forward step by step. The President made these remarks during his meeting with Prince Zeid al-Hussein, the United Nations High Commissioner for Human Rights.
The president pointed out if the government would take sudden actions regarding these, the extremist groups will take advantages. He said two years are sufficient for Sri Lanka to complete the matters adopted by UNHRC resolution. He invited Prince Hussein to visit Sri Lanka to witness the progress it has been achieved.
President Sirisena and the UN High Commissioner for Human Rights met yesterday in New York, US.
The President explained about the steps taken by the government of Sri Lanka to ensure human rights and reconciliation. He pointed out this task should be performed with thorough understanding about the internal political and cultural matters, as well as international politics and culture.
President Sirisena stated that he signed the relevant gazette notification to establish the office on missing persons before he made this official visit to US. He said this office will be actively operated. He said arrangements have been made to present a draft on new constitution to the parliament.
The President said all lands in the East which were under the control of security forces have now been released. He stated that a substantial extent of lands in the North also have been released. He said the rest will be released to the people after solving the relevant administrative issues.
United Nations High Commissioner for Human Rights commended Sri Lanka's progress in these matters. He said he will be more satisfied if this journey of Sri Lankan government will be speeded up. He commended the actions taken to establish the office on missing persons. He requested to appoint officers for this office from all communities so that every community can accept the actions of the office. He added the UN Human Rights Council will give its fullest support to Sri Lanka on this regard.
(President's Media)