Staggered PC polls costlier; Elections Commissioner tells the media
Posted by Editor on July 5, 2012 - 8:27 am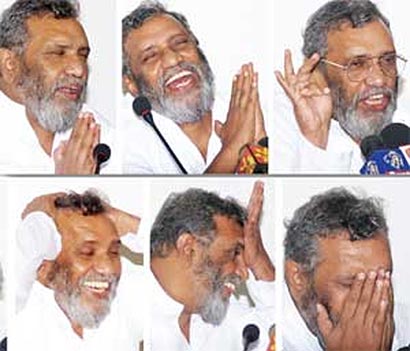 Polls Chief Mahinda Deshapriya yesterday said that neither the incumbent Commissioner nor the proposed Independent Election Commission would be able to prevent Provincial Council elections being held on a staggered basis. There was no provision in existing laws for him to step in to prevent that, Deshapriya said.
The Polls Chief was responding to a query by The Island at yesterday's meeting at the Election Secretariat, Rajagiriya, where he issued instructions to both print and electronic media as regards the polls coverage.
Asked whether polls on a staggered basis could be advantageous to the political party in power, Deshapriya said that PC polls had always been held on a staggered basis including the first round of them in 1988.
Deshapriya asserted that it wouldn't be logical to compare the proposed Independent Election Commission in Sri Lanka with that of India.
Both, the UNP and the JVP, have called upon the government to hold PC polls simultaneously.
The Polls Chief said that funds could be saved if elections to all PCs were held simultaneously. The forthcoming elections to the Eastern, Sabaragamuwa and North Central Provinces would cost the taxpayer approximately Rs. 600 mn, he said. But  that amount could even go up to Rs. 650 mn or come down, he said.
Deshapriya said that his department was making every effort to cut down on expenditure, though transport costs were going up alarmingly.
The media could play a pivotal role in helping the Election Department to conduct free and fair elections, Commissioner Deshapriya said. If not for the media, the infamous Wayamba PC polls would never have been exposed, he said. In fact, the absence of media presence had prevented the exposure of the 1982 referendum, he said.
Deshapriya warned the media not to manipulate a particular situation to its advantage at the expense of the electoral process. Citing several examples of media manipulations, the polls chief stressed the importance of being accurate, though media tended to pursue various agendas regardless of consequences. He appealed to the media to verify facts before rushing to print or going on the air.
Commenting on the deployment of polls monitoring groups, Deshapriya said that those affiliated to various political parties wouldn't be a part of the monitoring process. Polls monitoring groups could play a constructive role but their political affiliations could jeopardise the whole process, he said.
Deshapriya said that his Department was in the process of finalising the deployment of monitoring groups in consultations with political parties in the fray.
Courtesy: The Island
Latest Headlines in Sri Lanka