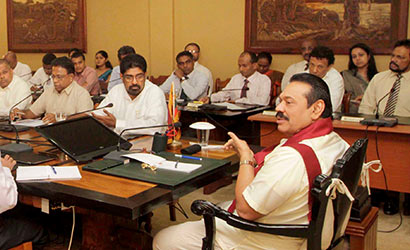 "I have never changed a principled political position in my political career," President Mahinda Rajapaksa said yesterday speaking to print and broadcast media heads at Temple Trees.
Answering two questions, one on whether there is a change in his position on Police Powers to Provincial Councils and two on the appointment of the Commission to Probe Disappearances, the President said that he was the first and the only politician to talk about disappearances in the 1980s.
He said that probing disappearances now is in line with his principled position taken then.
The President said that his politics 'is like that'; the position he took several years ago will never change now.
"Whether I am in power or not does to make a difference; my positions will not change,'' he said.
He also said that the Commonwealth Heads of Government Meeting (CHOGM) should be treated as a national endeavour, which will benefit the entire nation.
He therefore requested that such a national effort be treated as such, and the true position depicted by the media on CHOGM as everyone should support an effort that will in the final analysis benefit the country.
MP Sajin Vass Gunawardene said that over 65,000 hotel rooms will be used for accommodating participants the two week period that the CHOGM is held, and that will entail considerable revenue to the country.
The Commonwealth Business Forum will also within those two weeks be instrumental in initiating continuous revenue generating investment projects. He also said that only a Head of State, Foreign Minister, and Foreign Secretary of a country will be hosted gratis i.e. given rooms at Sri Lanka's state expense during CHOGM, as per the accepted CHOGM conventions of past such meetings.
All other expenses of members of delegations from foreign countries will have to be paid for by the visiting delegation. Asked about the cars being used for CHOGM, Finance Ministry Secretary, Dr. P B Jayasundera said that the cars belonging to Ministries will be pooled for the CHOGM in the same way that those cars are pooled during national election time.
As for Heads of State, Media Minister Keheliya Rambukwella said that they have to be provided with facilities befitting a Head of State and therefore, they would need special automobiles. "We will certainly not make a Head of State to travel by Toyota Corolla,'' he said.
MP Sajin Vaas Gunawardene also said that all member countries of CHOGM are participating in the CHOGM Conference and this includes the Heads of State.
In the case of Canada, though the Canadians have said that they will participate at something less that Head of State level, the Canadian Prime Minister may eventually come to Colombo for the CHOGM as Canada has isolated itself in the stand taken on the matter.
(Courtesy: Daily News)