Stars may skip Bollywood awards in S.Lanka: govt
Posted by Editor on June 1, 2010 - 12:58 am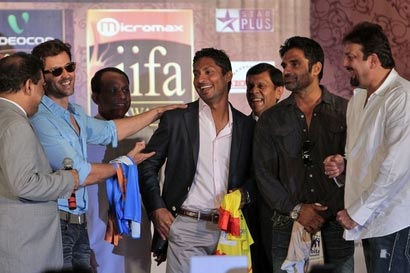 COLOMBO (AFP) – Bollywood's leading stars may skip their annual awards festival, which is being held in Sri Lanka this week, following protests from pro-Tamil rebel lobbies in India, officials said Monday.
The brand ambassador of the International Indian Film Academy (IIFA) awards, Amitabh Bachchan, his actor son Abhishek and daughter-in-law Aishwarya Rai — Bollywood's leading couple — have not yet confirmed their participation.
"About 97 percent of the top stars have confirmed with the exceptions of movie stars Amitabh Bachchan and his family," Sri Lanka's junior economic development minister, Lakshman Yapa Abeywardene, told reporters.
"There is a lot of protest from the (Tamil) Tiger lobby in Tamil Nadu to the Bollywood fraternity to boycott the IIFA Colombo awards. But, we will go ahead with the event as planned," he said.
Media reports suggested that megastar Shah Rukh Khan may also opt out citing a busy work schedule.
Two people were killed when a Khan concert in Colombo was bombed in 2004, and he vowed at the time that he would not visit Sri Lanka again.
Tamils in the south Indian state of Tamil Nadu share close cultural and religious links with Sri Lanka's minority ethnic Tamils. Tamil Nadu was once a safe haven for Tamil rebels who staged attacks in Sri Lanka.
Tamil Nadu politicians have also been highly critical of Sri Lanka's military campaign that saw the Tamil Tiger rebels crushed in May last year, ending a 37-year-old separatist conflict.
"We request the brothers in the North Indian film industry not to attend the IIFA awards," an alliance of South Indian film industry groups said in a joint statement issued in Tamil Nadu over the weekend.
The pro-Tiger lobby argues that staging the IIFA awards in Sri Lanka endorses President Mahinda Rajapakse's stand on the war.
But the Sri Lankan government says that Bollywood's presence will improve the island's international image and promote post-conflict economic development.
Latest Headlines in Sri Lanka