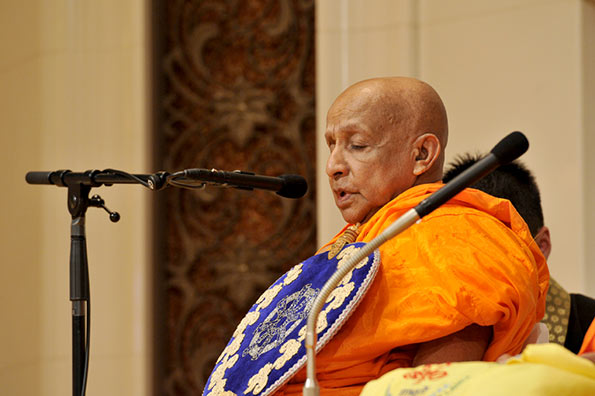 The Most Ven. Udugama Sri Buddharakkhitha Maha Nayaka Thera of the Asgiriya Chapter passed away at a private hospital in Singapore on Wednesday. He was 85 years and was ailing for some time.
Born in 1930 to G.M. Punchi Bandara Nilame and Jayasundara Mudiyanselage Muthu Manike at Udugama in the Kurunegala district, the Ven. Thera had his primary education at the Udugama Government School and secondary education at the Sri Dharmaraja Pirivena, Matale where he excelled in oriental languages under the tutelage of Ven. Pandit Gammulle Sri Chandajothi Nayaka Thera.
He was ordained in 1945 at the age of 15 and later received higher ordination as a pupil of Ven. Udugama Rathanapala Maha Nayaka Thera in 1951 at the Asgiri Maha Vihara.
Subsequently, he was appointed a member of the Supreme Council of the Sangha in 1968 and Viharadhipathi of the Rangiri Dambulu Raja Maha Vihara in 1992.
The Ven. Thera was appointed Anunayaka of the Asgiriya Chapter in 1998 and the 20th Mahanayaka in 1999. He had widely travelled in predominantly Buddhist countries such as Korea, Thailand, Japan, Singapore, Taiwan, China, Hong Kong, Burma, Cambodia and India.
Despite his venerated position in the Buddhist hierarchy, the Ven. Thera very often voiced concern on controversial issues threatening national life such as drug addiction of youth and erosion of social values.
He was forthright in his strident views when he castigated politicians amassing ill-gotten wealth and deplored the abuse of cellphones by children. He exhorted politicians who sought his counsel to work with a sense of national interest sinking party affiliations. The Most Ven. Mahanayaka will be accorded a state funeral at the Asgiriya Police grounds, Kandy at 2.00 p.m. today.
The government has declared today, a day of national mourning.
(Sunday Observer)