STF security for Chief Minister Pillayan
Posted by Editor on February 28, 2010 - 3:38 pm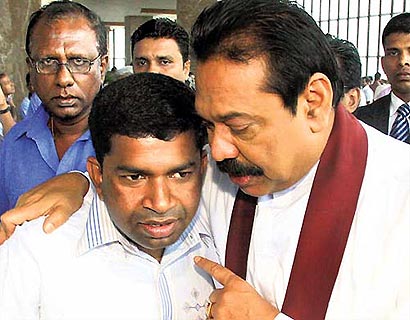 The Thamil Makkall Vaduthalai Puligal (TMVP) yesterday denied that the government had withdrawn the security of its leader, Chief Minister Sivanesathurai Chandrakanthan (Pillayan) of the Eastern Province, explaining that 40 army personnel in the chief minister's security detail had been replaced with STF personnel.
This was consonant with the government decision that the military will not provide security to politicians, the spokesman explained.
There had been reports that Chandrakanthan's security had been withdrawn as a result of the TMVP deciding to contest on its own steam in Northern and Eastern districts as well as at Polonnaruwa.
Judy Devadason, TMVP's Trincomalee district leader, yesterday called for an attitudinal change among politicians saying that until such a change occurs or there are some necessary compromises, there will be no solution to the problems that the people face.
She rejected TNA leader R. Sampanthan's call for the Tamil people to unite and vote against majority forces saying this was not a constructive approach.
"The Tamil people have not achieved anything by repeatedly voting against the majority," she said. "They are only promoting racism."
She called for a practical approach saying that they were living in a country under majority rule and their plans for the Tamil people should be realistic.
"Tamils who are realistic and wished to live with all other ethnic groups in the country must be constructive and vote for the TMVP at the forthcoming elections," she said.
Courtesy: Island by Franklin R. Satyapalan
Latest Headlines in Sri Lanka