President tells candidates in Anuradhapura: UPFA will form stable Government
Posted by Editor on March 1, 2010 - 11:33 am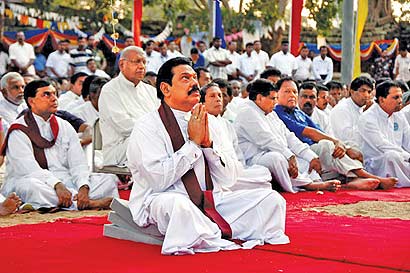 President Mahinda Rajapaksa predicted that the United People's Freedom Alliance (UPFA) would form a stable Government at the conclusion of the April 8 parliamentary elections in line with the people's expectations.
President Rajapaksa made these observations addressing UPFA candidates for the Parliamentary elections at President's House in Anuradhapura after all candidates made a pledge before the President to commit themselves to a free and fair election.
The pledge was made following religious observances by the candidates under the President's patronage on Saturday.
The religious observances followed the ceremony at President's House signalling the UPFA campaign launch for the general elections, where Prime Minister Ratnasiri Wickramanayaka and all UPFA candidates participated.
Addressing the candidates after they made their pledge, President Rajapaksa reminded them that the people had kept faith with the UPFA on a continued basis since 1994.
The UPFA had always kept faith and had taken steps to uphold the people's franchise, he said.
"We never subjugated the path of democracy. We did not believe in alternative routes and did not mislead the people by holding bogus referendums. This is why the people trusted us and continues to trust us. You should ensue its continuity," he noted.
The UPFA, the President said is a combination of many political parties and derived strength from its diversity. The President said the UPFA on this occasion was contesting all electorates from Dondra head to Point Pedro.
The President however cautioned the candidates not to give false promises or get embroiled in bitter battles in search for preferential votes to get elected.
"Tell the truth. You can take a leaf out of the Mahinda Chinthana in this regard," he added.
President Rajapaksa also emphasized the need to uphold party discipline and cautioned the candidates about husslings for the Manape.
The President while emphasizing that the people's free will should prevail, cautioned that any breach of discipline would be dealt with severely by the party General Secretary. President Rajapaksa called on the candidates not to force their will on the people, but instead give due respect to the public opinion and take examples from that.
He said the elected candidates should represent the public opinion and should give voice to it within Parliament.
President Rajapaksa also cautioned the candidates not to seek extra comforts or elevate themselves to a higher pedestal at the expense of public vote.
All candidates promised to work together disregarding all differences to safeguard the sovereignty of the Motherland and to steer it towards prosperity.
Source: Daily News – By Rasika Somarathna
Latest Headlines in Sri Lanka