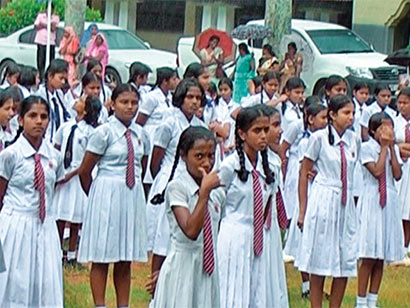 Students of Ibbagamuwa Central College were made to listen to a speech by Minister of Education, Bandula Gunawardena, whilst standing outdoors during heavy rain.
The students were subjected to this predicament during the inauguration of the National Physical Wellness Programme, which was held at Central College, Ibbagamuwa. Sources said that students of many surrounding schools including Gokarella Central College, Namal Anga Maha Vidyalaya and Melsiripura Medamulla Vidyalaya had also attended.
And even though it had been raining heavily since the previous night, the organizers had still arranged for the ceremony to be held in the school grounds as previously scheduled.
Seating arrangements for the invitees had been made in the pavilion but the school's pupils had to stand unsheltered in their grounds.
When Minister Gunawardena had begun his speech it had begun to drizzle which later grew into a deluge, and yet the minister had continued with his speech for a further 20 minutes.
The students' parents had unfurled their umbrellas expecting their children to be asked to take shelter, but neither the minister, the principal, nor any of the invitees took any initiative to ask the children to take shelter, or at least have the speech end early.
By the time the minister had finished his speech and the Principal presented the vote of thanks, the students were thoroughly cold and wet.
Deputy Minister of Education, Mohan Lal Grero, Minister of Indigenous Medicine Salinda Dissanayake, Deputy Chairman of Northwestern Provincial Council, R.D. Wimaladasa, and Northwestern Provinicial Councillor, Manjula Dissanayake,were also in attendance at the event.
(Courtesy: Ceylon Today)