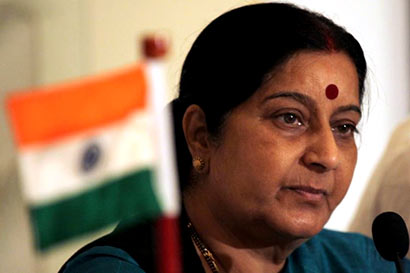 India's External Affairs Minister Sushma Swaraj will arrive in Colombo on Friday to set the stage for the visit to Sri Lanka by Indian Prime Minister Narendra Modi on March 13. During her two-day stay, Ms. Swaraj will meet Prime Minister Ranil Wickremesinghe and Foreign Minister Mangala Samaraweera.
Prime Minister Modi is scheduled to arrive here on March 13 for a three-day official visit, the first by an Indian Prime Minister since 1987.
He is scheduled to travel to Jaffna, Anuradhapura and Kandy during his stay in Sri Lanka, Presidential Secretariat sources said. He will visit the Dalada Maligawa in Kandy and also inspect ongoing Indian housing projects in the estate sector.
President Maithripala Sirisena made an official visit to India last month for talks with Prime Minister Modi and extended an invitation for him to visit Sri Lanka.
Mr. Modi's visit to Sri Lanka will be part of a tour of four Indian Ocean nations, including Mauritius, Seychelles and the Maldives. However, reports say his visit to Male is uncertain because of the political crisis there.
(Sunday Times)