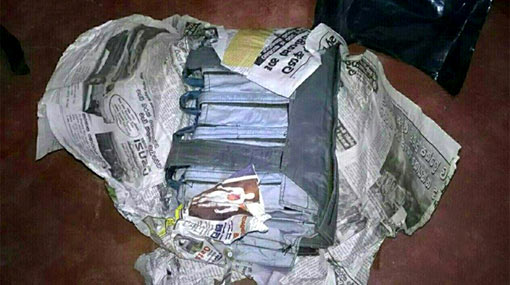 A suspect has been arrested in connection with the earlier recovery of a suicide jacket and explosives inside a residence at Maravanpulo on the A32 road in Chawakatchcheri, Jaffna District.
The suspect, believed to be the house owner who fled during the police raid, was arrested in the Kilinochchi area today, Ada Derana reporter said.
The suspect's wife has also been taken in for questioning by police, he said.
Police officers had discovered a suicide jacket, 4 Claymore mines, 3 parcels containing around 12kg of TNT, 2 packets of 9mm ammo (100 bullets) and 2 battery packs used to detonate the claymore mines.
It is suspected that the explosives and other equipment had been hidden in the area during the war.
Police had reportedly raided the house on a tip-off that the owner had in his possession drugs and marijuana and during the raid the suspect had fled the area.
(Ada Derana)