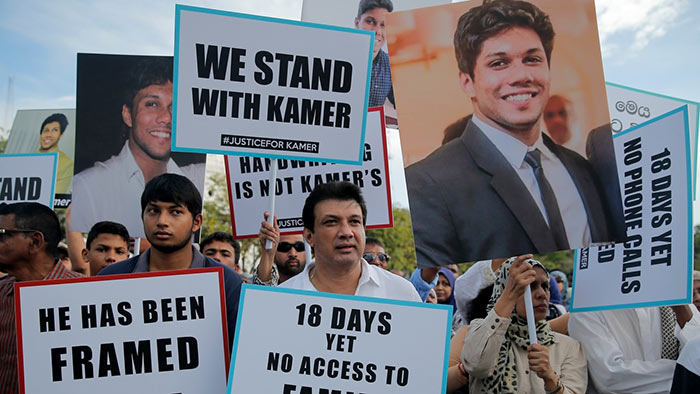 A Sri Lankan man in Australia on a student visa who was accused of terrorist plot is to be released on bail.
The prosecution said the case against Mohamed Kamer Nilar Nizamdeen has weakened after an expert said there was no match between the accused's handwriting and the handwriting in a notebook seized by authorities.
The notebook allegedly named several "symbolic" locations and individuals as "potential targets" of what police claim was a plan to commit a terrorist attack.
The 25-year-old was charged with collecting or making a document which is connected with preparation for, the engagement of a person in or assistance in a terrorist act on August 31.
Mr Nizamdeen has spent the last four weeks in jail as his family insists he is innocent.
Family members, human rights activists and civic groups held protests in Colombo, Sri Lanka on September 18, urging a speedy and fair investigation.
"Without a conclusive expert opinion suggesting the defendant was the relevant author, evidence for the charge has been significantly weakened," the prosecution told the Central Local Court in Sydney, according to Triple J.
"The prosecution concedes these are exceptional circumstances."
Police allege he acted on his own, and decided not to charge him with being a member of a terrorist organisation, even though police told reporters at a press conference he appeared to be affiliated with Islamic State.
Mr Nizamdeen's lawyer, Moustafa Kheir, said the case against his client is "substantially weak".
"There's no handwriting match at all," he told reporters outside the court.
"Let's be clear, Mr Nizamdeen has been granted bail because the case against him is extremely weak almost non-existent.
"We'll be continuing to fight until all charges are dropped and he's completely exonerated."
The court also heard that no extremist ideology was found among the possessions – computer, mobile, other documents – seized by authorities.
The case has been adjourned until October.
(Source: SBS News)