Talks on with Tamil parties: Ranil
Posted by Editor on October 8, 2015 - 10:24 am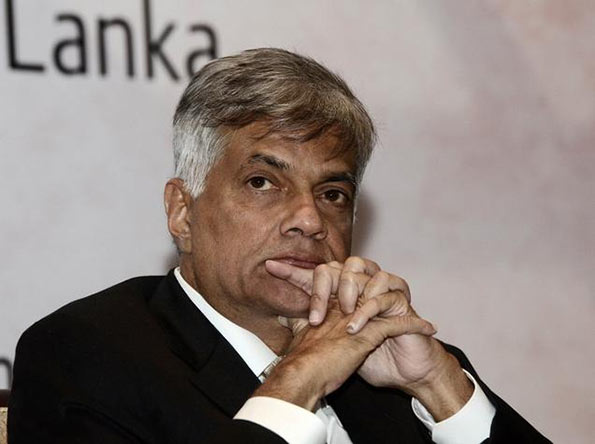 The Sri Lankan government has begun "informal discussions" with the Tamil National Alliance and other parties on a political solution to the ethnic conflict, according to Prime Minister Ranil Wickremesinghe.
Though the government's "political goals" included "a new Constitution, consolidation of human rights and the strengthening of democratic institutions", the "most important" among them was to find "a political settlement to the outstanding issues relating to national unity, ethnicity and religion", Mr. Wickremesinghe told Japanese Parliament members in Tokyo on Tuesday.
"The language and ethnicity issues, which dominated the country over five decades, and religious discord that were stirred up during the last decade, must be resolved if a strong Sri Lankan identity – based on equality – is to be established," he said.
Mr. Wickremesinghe sought Japanese assistance to hold a meeting of donors to assist in the reconstruction and revitalisation of socio economy of the conflict-affected areas.
[In June 2003, Japan hosted one meeting in Tokyo on peace process].
The Prime Minister added the government was discussing with South Africa "the architecture of a new structure for truth machinery."
This would include a Truth Commission to record the instances of violence and violations. An "innovative new mechanism," Compassionate Council, would be set up with the leading clergy of all religions – Buddhism, Christianity, Hinduism and Islam.
It would provide advice on the measures to be taken on individual cases.
"Finally, we will be devising a new judicial structure to inquire into the violation of human rights," he added.
A joint declaration issued at the end of Mr. Wickremesinghe's four-day-long visit, which concluded on Wednesday, attributed to Japan's Prime Minister Shinzo Abe as saying that his country would continue to support development of community infrastructure including water supply and conduct of a survey to enhance facilities of the Faculty of Agriculture at the University of Jaffna.
In addition to the provision of educational facilities in Mannar, Japan would provide 240 million yen through the World Food Programme for the Food Assistance Programme in order to improve a scheme of meals for school children.
(The Hindu)
Latest Headlines in Sri Lanka