Team of MPs heads to Sri Lanka despite protests
Posted by Editor on April 9, 2013 - 3:41 pm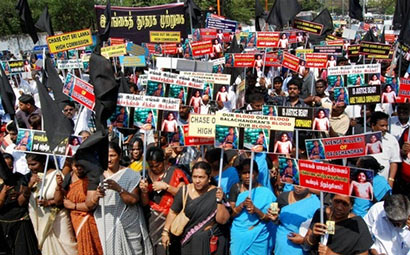 – Submitted by Walter jayawardhana –
Disregarding the appeal of Environment Minister Jayanthi Natarajan, FICCI Tamil Nadu President Rafeeq Ahmed and its former president A C Muthiah to cancel a chambers-sponsored Indian Parliamentary delegation visit to Sri Lanka, five MPs—including Congress spokesperson Sandip Dikshit—left for Colombo by an evening flight on Monday.
Only one Congress MP from Telangana, Madhu Yashki, pulled out of the trip meant to promote "political partnership with Sri Lanka", amid protests in Tamil Nadu.
While Dikshit refused to comment on what prompted him to join the delegation ignoring the appeal made by a Congress minister, Trinamool Congress MP Saugata Roy was more forthcoming. Roy said he was going as it was a "goodwill visit" sponsored by the FICCI and not by the government. "We've had quite a few discussions in Parliament, now we need to further our engagement with the issue."
The five-member delegation is also expected to visit Jaffna in the northern provinces to check the resettlement and rehabilitation work being funded by the Indian government for the Lankan Tamil population devastated by the civil war.
Roy said, "We're aware of the protests in Tamil Nadu, but how are we to help the ethnic Tamils unless we keep the channels open?"
BJP MPs Prakash Javadekar and Anurag Thakur and BSP MP Dhananjay Singh are part of the delegation that went to Colombo.
The FICCI itself seemed divided. Ahmed and Muthiah met its president Naina Lal Kidwai here on Monday morning to get the trip cancelled any which way.
Kidwai, however, refused to commit herself either way. In fact, there was so much confusion that the MPs were not sure whether they would be able to fly by the 6.15 pm flight. But, Jyoti Malhotra, FICCI Convenor of the Forum of Parliamentarians and a staunch votary of Track-II diplomacy, stayed the course and pushed through the visit.
It is being organised as part of a larger programme that seeks to institutionalise political partnership—develop and improve business and political relations among South Asian countrie  (Courtesy: The New Indian Express)
Latest Headlines in Sri Lanka