Ten million cigarettes to go up in flames
Posted by Editor on December 30, 2010 - 8:49 am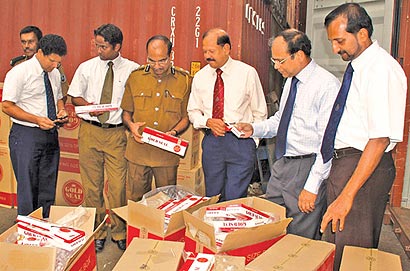 Dinesh DE ALWIS These cigarettes will be put into the Puttalam Cement Factory burner in the presence of Tobacco Company and National Authority for Tobacco and Alcohol officials. The total value of the cigarettes is Rs 200 million.
The Government would have lost Rs. 180 million in terms of duty and other levies if they had been released to the local market.
This was the biggest illegally imported cigarettes haul seized this year. This consignment had been sent from Dubai using fraud names and local addresses of Sri Lankans. No arrests have been made so far and investigations are continuing said Sri Lanka Customs Director General Sudarma Karunaratne.
The raid was conducted based on information received by the unit. Public could inform about any form of customs offences to the 24 hour Hotline 011-2471471 she further said. Meanwhile the CIU seized another container with 14,000 liters of illegally imported Ethanol alcohol inside 80 barrels. The Ethanol was imported from Malaysia and valued at Rs 1 million.
The two raids were conducted by a team led by CIU Director C N Rajaratnam and Deputy Director L M Nellson.
Courtesy: Daily News
Latest Headlines in Sri Lanka