Thailand gets the first Female Prime Minister
Posted by Editor on July 4, 2011 - 12:53 pm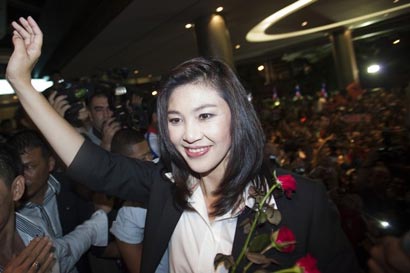 Yingluck Shinawatra, the sister of Thailand's exiled former Prime Minister Thaksin Shinawatra has won a landslide victory in the General Elections held yesterday.  The Pheu Thai party led by her won 264 seats against Prime Minister Abhisit Vejjajiva's Democratic party which has won 160 seats. Yingluck's brother, Thaksin, was ousted in a military coup in 2006.
Following his party's defeat in the elections, Mr Abhisit has announced his resignation as the Democrats' leader. Last year, protesters shut down parts of Bangkok for two months in a bid to force Mr Abhisit's government to resign. When the army stepped in to clear the streets it degenerated into violence, leaving 91 people dead.
Financial reports said that the Thai baht rose more than 1% against the dollar when markets opened this morning, performing better than other Asian currencies.
Yesterday's election has paved the way for Ms Yingluck, a 44-year-old business executive, to become Thailand's first female Prime Minister and the fifth person to hold the post since her brother.Thaksin Shinawatra was deposed in a military coup in 2006.
Meanwhile the former Prime Minister Mr. Thaksin who lives in Dubai, where he lives to avoid a prison sentence for corruption commenting on the election results has said that it was clear that the Thai people had voted for a change.  He has not, however, indicated when he would return to Thailand.  (niz)
Source: Government News Portal / Pix by Getty Images

Latest Headlines in Sri Lanka