Tharanga and Dilshan crush England
Posted by Editor on March 27, 2011 - 7:59 am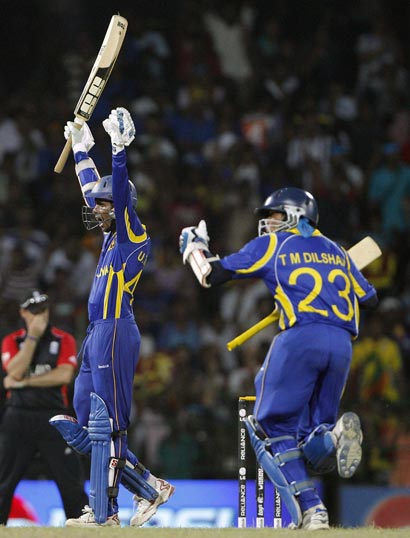 Tillakaratne Dilshan and Upul Tharanga set an emphatic seal on Sri Lanka's place in their home semi-final against New Zealand next Tuesday, as England's chaotic World Cup campaign came to an abrupt and anticlimactic end under the floodlights at the Premadasa Stadium in Colombo.
Set a testing total of 230 at a venue where successful run-chases have been notoriously thin on the ground, Sri Lanka's openers set about proving that history is bunk as they sauntered to victory by 10 wickets and with a massive 63 balls to spare. After five months on the road for England's cricketers, and six consecutive nail-biters in the group stages of the tournament, they found they had nothing left to give as the first round of knock-out matches was concluded with an utter walloping.
Though several higher scores have been made in this tournament to date, England's total of 229 for 6 ought to have competitive in the conditions. Only eight times in 49 internationals at the venue had a team batting second chased 230 or more for victory, and the most recent occasion came back in 2004. However, Dilshan and Tharanga battled through a tricky start with a flurry of aggression, before settling back into an effortlessly accumulative tempo. For the second time in the campaign, following on from their crushing of Zimbabwe in Pallekele, both men brought up centuries in a massive and indomitable stand.
Such was Sri Lanka's dominance that the match was able to finish in comically contrived scenes, as Dilshan – who had already reached his landmark with a savage cut for four off Graeme Swann – set about shepherding his partner to his own hundred. With seven runs still needed and Tharanga on 98, Dilshan accidentally carved Swann clean through the covers, and was grimacing his apologies before the ball had crossed the rope. Dilshan responded with two of the most exaggerated forward defences he has ever played, the first to a rank long-hop that even Swann was able to smile about, and with both men rendered virtually immobile with cramp, Tharanga finished the game three balls into Chris Tremlett's subsequent over, with a flat-footed swipe through the off-side.
The statistics told a sorry tale for England. All told they managed 12 fours in the whole of their 50 overs, two of which were scored by Jonathan Trott, whose 86 from 115 balls was his fifth half-century in seven innings, as he became the first batsman to pass 400 runs in the current tournament. Eoin Morgan provided some impetus with a 55-ball 50, but the batting Powerplay once again scuppered their momentum, as they were restricted to 23 runs and two key wickets in their five overs of fielding restrictions. Sri Lanka by contrast clobbered 22 fours and three sixes in less than 40 overs. The final result was every bit as resounding as it had been when these two teams last met in a World Cup quarter-final, at Faisalabad 15 years ago, a match that was lit up by Sanath Jayasuriya's epoch-defining 82 from 44 balls.
The nature of England's campaign meant that everyone, players and spectators alike, was waiting for the inevitable twist in the narrative, a fightback of the sort that the bowlers had produced against South Africa and West Indies earlier in the tournament – two other occasions in which the openers had proven hard to dislodge. However, it simply never materialised.
England's bowling effort started promisingly enough. Tim Bresnan found good swing in a tidy first over, while Swann spun the ball sharply after being armed with the new ball. However, Tharanga quickly decided valour was the better part of discretion, and latched onto a modicum of width to crash his first four in Bresnan's second over, before using his feet expertly to deposit Swann back over his head for six.
Tremlett, retained in the team ahead of the experienced James Anderson, looked set to justify his place in a brilliant first over in which he beat Dilshan three balls in a row, including a massive nip-backer that shaved the leg bail on its way through to Prior. But his line and length became scrambled thereafter, and whereas England had managed just four boundaries in their first 25 overs, Dilshan cashed in with two in four balls, both crashed through the off side, as Sri Lanka reached 57 for 0 at the end of the first Powerplay.
The chances that England were able to create were too marginal to be capitalised upon. Early in his innings, Dilshan survived a miscued pull off Bresnan that looped over the head of short midwicket, while Ravi Bopara came within a whisker of bowling him in his first over, only for the ball to beat everyone and fizz away for four byes. The same fate awaited a beauty of a delivery from Swann, while James Tredwell, the hero of Chennai, was tidy but unthreatening in his first three overs, before Dilshan planted his front foot to drill him into the stands at long-off. Tremlett returned to create two half-chances as the ball was drilled hard back through his fingertips, but the game was as good as over long before then.
At the innings break, the scenario seemed to be very different. England looked nervous and leaden-footed against a Sri Lankan attack loaded with four front-line spinners, including the Man of the Match Dilshan, who took the new ball and scalped Andrew Strauss after a dreadful innings of 5 from 19 balls. But they endured and briefly, while Trott and Eoin Morgan were in harness, they thrived, adding 91 in 16 overs for the fourth wicket.
However, their ambitions of a formidable 240-plus total were scuppered by the dismissal of Morgan in the first over of the Powerplay. Until he drilled Lasith Malinga at deep cover for a 55-ball 50, he had lived a charmed life, with no fewer than four clear-cut chances going his way – three dropped catches, two of them extraordinarily easy, and an lbw appeal on 29 that would have proved stone-dead on review. His luck, however, ran out at an inopportune moment for England, and when Swann missed a switch hit to fall for a first-ball duck, England proved incapable of reaching the boundary while the field was up, with just 23 runs coming in the five overs of fielding restrictions, and 56 in the last 10 all told.
Trott's performance was that of a man who knew that if he batted through the innings, the runs would materialise somehow. He scored his first boundary from his 65th delivery, and eventually fell in pursuit of his third, as he swept Muttiah Muralitharan to deep backward square with nine balls of the innings remaining. Despite inevitable criticism of the tempo of his innings, his sang froid appeared to be well suited to the situation, as he backed himself to work the ones and twos in a boundary-less start to his innings, and at the same time he drew a gutsy response from Ravi Bopara, who was far less comfortable with the tempo, but knuckled down for 31 from 56 balls.
Murali, whose legendary career has now been extended by one more game at least, finished with 2 for 54 in nine overs before limping off with an apparent recurrence of his hamstring strain. However, that tally could have been higher but for an extraordinary sequence of events in his eighth over, when Morgan was dropped twice in consecutive deliveries. He had already survived one dolly of an opportunity on 16, when Thilan Samaraweera shelled a leading edge off Ajantha Mendis at point, but Murali couldn't contain his fury when, first, Angelo Mathews at extra cover fluffed a lofted drive, before Rangana Herath dived forward at point but failed to cling on.
If those moments were evidence that Sri Lanka were feeling the pressure of the big occasion, they were fleeting at best. The insolent ease of this performance means that New Zealand will arrive in Colombo with trepidation ahead of their sixth semi-final appearance in ten World Cups. They have never yet progressed beyond that stage, and four years ago in Jamaica, they were sent on their way by one of the best hundreds of Mahela Jayawardene's career. Today, however, Jayawardene's solitary contribution was a catch at deep square leg. Whereas England have been on their chinstraps all tournament long, Sri Lanka – it is clear -are a team with plenty still in reserve.
Courtesy: Cric Info
Latest Headlines in Sri Lanka