The 20 Billionaires Of Sri Lanka's Stock Market
Posted by Editor on January 23, 2011 - 10:26 am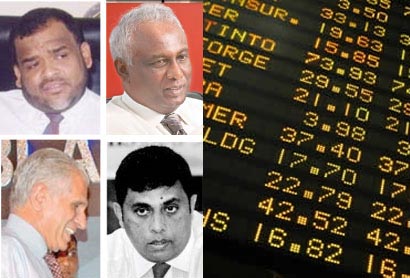 A group of 20 investors, led by businessman Dhammika Perera, drive the Colombo Stock Exchange's top 40 quoted companies and have holdings collectively worth Rs. 122 Billion.
The group of 20 investors, led by the Secretary to the Ministry of Transport and former Chairman of the Board of Investment, Dhammika Perera, have been identified as driving and riding the fortunes of the Colombo Stock Exchange. The Exchange's top quoted companies have produced phenomenal results with rising stock prices after the war and the group now have capital gains collectively worth over Rs 122 Billion.
Our examination of the data from the Colombo Stock Exchange revealed that businessman Dhammika Perera easily led the way with the value of shares owned by him at over Rs. 36 Billion. Second to Perera is Sohli Captain whose investment in John Keels Holdings alone is valued at around Rs. 30 Billion.
The top 20 Billionaires also have huge wealth in terms of ownership of property here and abroad as well as investments in privately owned companies in Sri Lanka and abroad.
The list does not include hundreds of others who have their wealth in privately owned companies and in fixed assets. Some well known mega rich are not on the list as their wealth is either privately held or because their share ownership is through front or related companies are Harry Jayawardene and his warehouseman from Stassens, Ronald Perera spring to mind. Others include Sumal Perera, the two Selvanathan brothers Hari and Mano and Thirikumar Nadesan to just name a few. Dhammika Perera has had a meteoric rise within this country's financial establishment.
His investments are in some of the top listed blue chip companies:
Hayleys, Connaisance Hotels, LB Finance, Pan Asia Bank, Sampath Bank, Amaya Leisure, Fortress Hotels, Vallibel Power, Vallibel Finance, Royal Ceramic and Vallibel One.
When we contacted Mr. Perera to ask if he agreed with our estimate Mr. Perera laughed it off saying he would call us later.
For our calculation we took into consideration shareholdings made in companies listed on the main board of the Colombo Stock Exchange, held in the investor's own name, valued as of 30th September 2010 based on the last traded price. All values relate to Capital gains whether realised or not.
We used as a benchmark a minimum entry level requirement of Rs. 1 Billion or approximately US$ 10 Million.
Number two on the list Sohli Captain, is the largest Sri Lankan share holder in John Keells and Ceylon Industrial Chemicals. His daughter Liza Captain who is at number 10 on the list has her shareholding valued at close to 2.5 billion rupees. Muzaffar Ali Yasin who is a major garment exporter is number three on the list with his wife Lorraine at number six.
The total value of their shares is a mammoth 11 billion. At number four is the owner of Indra traders – Ishara Silva – who started as reconditioned car importers. Ishara Silva has a diversified portfolio with capital gains recorded at Rs 7.2 Billion, principally invested in the banking sector with holdings in NDB, HNB, Sampath Bank, Nations Trust Bank and Commercial Bank. At number five is RM Nanayakkara owner of Green Lanka, a shipping company.
There are three Pages, on the list. They own among many others, Millers and Cargills, Food City chain of super markets, Cinemas, and shopping Malls. Three of the family members are worth a huge nine billion rupees. The declared share holdings of the three come close to 10 billion rupees. Jayantha Dharmadasa the Deputy Chairman of Nawaloka Group and the eldest son of Nawaloka Mudalali is valued at 3.7 billion while the value of the declared shareholding of the Chairman of Brandix and former Chairman of John Keells – Ken Balendra – is valued at close to Rs 2.5 billion.
London based Dr. Sena Yaddehige who controls Richard Peiris is at number 13. Number 13 cannot be an unlucky number for him – with his declared shares valued at nearly two billion rupees.
Following Yaddehige is G.C. Wickremesinghe formerly of Aitken Spence who is also valued at close to two billion. He is followed by Ishara Nanayakkara of the Lanka Orix Leasing Company (LOLC) at 1.7 billion.
Mrs. T. A. Selvaratnam represents "old money" and her shareholding at Ceylon Theatres records a capital gains figure of Rs 2.3 Billion.
The founder of Royal Ceramics who sold his majority holding to Dhammika Perera, A. M. Weerasinghe has capital gains of Rs 1.5 Billion – and continues as Chairman of Royal Ceramics.
Ajith Devasurendra – known as the "King of Bonds" – has diversified holdings including Browns and Asian Hotels showing capital gains of Rs 1.03 Billion and is listed at number 20.
THE TOP 20 RICH LIST
1. Mr KDD Perera 36,892,919,197
2. Mr S E Captain 30,397,447,305
3. Mr Muzaffar Ali Yaseen 7,364,172,125
4. Mr YSHIK Silva 7,275,380,383
5. Mr RM Nanayakkara 4,197,805,870
6. Mrs Lorraine EM Yaseen 4,018,908,000
7. Mr A Page 3,972,111,444
8. Mr HKJ Dharmadasa 3,790,563,260
9. Mr VR Page 3,416,297,561
10. Ms L A Captain 2,465,677,826
11. Mr K Balendra 2,451,630,582
12. Mrs TA Selvaratnam 2,340,725,010
13. Dr Sena Yaddehige 1,941,566,790
14. Mr GC Wickremesinghe 1,902,063,149
15. Mr JC Page 1,828,986,401
16. Ms MM Page 1,740,422,298
17. Mr IC Nanayakkara 1,714,508,688
18. Mr AM Weerasinghe 1,575,421,959
19. Mrs KU Amerasinghe 1,500,866,000
20. Mr A Devasurendra 1,038,519,980
Source: Sunday Leader
Latest Headlines in Sri Lanka