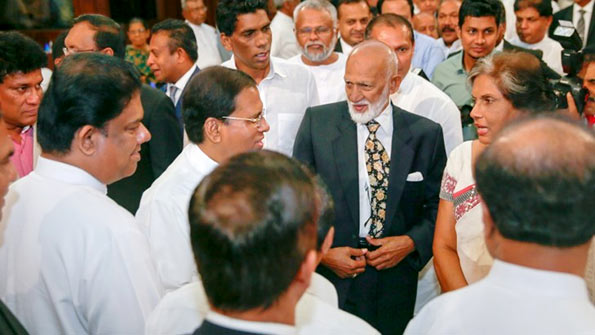 President Maithripala Sirisena says today everyone needs to work unitedly with the spirit of brotherhood as well as with discipline to build the country, but not for those who are in power to aim to retain it and those who are out of power to regain it.
He made these remarks participating at the national ceremony to launch the programme of building of a sustainable Sri Lanka, where everybody will share its dividends, held at the Presidential Secretariat, yesterday (02).
The Government has declared the Year 2017 as the year of poverty alleviation and many programmes have been implemented to achieve sustainable development goals according to the vision of the Government on poverty elimination.
The preparing of the national policy on the drive of Sri Lanka to achieve 2030 sustainable development goals will implement in parallel to this. The national policy will be prepared  by a Committee which consist of experts in 17 fields related to 17 selected spheres of  2030 sustainable development goals.
Expressing his views further the President said that we needed to be strong economically as a country in the year 2017. He said that every possible step will be taken in this year to free the people from poverty and to save the country from the financial crisis, and emphasized that many programmes will implement to increase the export revenue while developing the Local industries and the agricultural sector.
President Sirisena stated that we should protect and nourish the natural resources to achieve the targets of sustainable development, and further said that the great words uttered by the Arahant Mahinda that the right to land should be ensured for every living being including human beings, is greatly valid for today and tomorrow as well as in the past .
The President said that the national reconciliation is important in moving towards achieving sustainable development goals and said that always our country could be developed only in ensuring the peace, brotherhood and mutual trust among the communities.
The President expresses his happiness over launching a special programme for the future of the country and its citizens with the dawn of the New Year and said that all including the political leaders, public officials, religious leaders should unite with a commitment to achieve success in this programme.
The President launched the vision for the sustainable era and later the President presented the framework programme of Sri Lanka, which is prepared to outline the Government's strategies for achieving 2030 UN sustainable development goals, to Prof. Mohan Munasinghe, a Committee Member of the Sustainability Era Advisory Board.
Ministers and MPs, including Prime Minister Ranil Wickremesinghe, Speaker Karu Jayasuriya, Ambassadors and state officials participated in this event.
(President's Media)