The untold tales of a President
Posted by Editor on June 27, 2010 - 4:59 am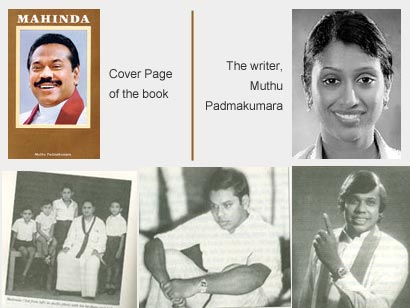 MAHINDA' -a book on the early years of President Mahinda Rajapaksa by Muthu Padmakumara, was launched at the Hilton Colombo on Monday, June 21. The biography published by Sarasavi Publishers depicts the early years of President Rajapaksa up to his assumption of duties as the Executive President of the country.
'MAHINDA' provides an insight to the childhood years of the President who brought peace to this island nation. The personal stories of President Rajapaksa are portrayed against the backdrop of Sri Lanka's political, social and economic upheavals at that time.
The launch of the book was graced by Madam Shiranthi Rajapaksa who was the Chief Guest of the evening. The Guest Speakers at the occasion were Minister of External Affairs Professor G. L. Peiris, and Deputy Minister of Finance Dr. Sarath Amunugama.
Dr. Amunugama commended Muthu Padmakumara for her successful effort in penning the early years of President Rajapaksa, bringing out unknown glimpses of his life.
Professor Peiris said the book provides some fascinating insights into the President's life, from early childhood until he became Executive President.
"The material has been presented in anecdotal form, with a wealth of detail which makes interesting reading. Many facets of the President's personality are vividly reflected in the chapters of Muthu Padmakumara's work. Apart from being a readable account of the life and career of a dominant political leader of our time, this book is also of value as a history of Sri Lanka in the post-Independence period, Professor Peiris noted.
The audience comprised Ministers, Members of Parliament, Commanders of the Security Forces, officials of the Presidential Secretariat, and heads of diplomatic missions in Sri Lanka, eminent business personalities and many other dignitaries.
Muthu Padmakumara is the author of four publications. Educated in Sri Lanka, she later read English and Mass Communications at York University (Toronto, Canada) graduating with an honours degree.
Veteran actor cum television personality Ravindra Randeniya was the compere for the evening. Music by Manoj Peiris and the dancers of the Channa-Upuli Dance Institute kept the audience entertained.
The event was made possible by the Bank of Ceylon, the National Lotteries Board and the Lankaputhra Development Bank.
Sunday Times
Latest Headlines in Sri Lanka