THE US SAYS IMPEACHMENT OF CHIEF JUSTICE ALSO CONTRIBUTED TO THE FRESH UN RESOLUTION AGAINST LANKA ON HUMAN RIGHTS
Posted by Editor on January 29, 2013 - 3:34 pm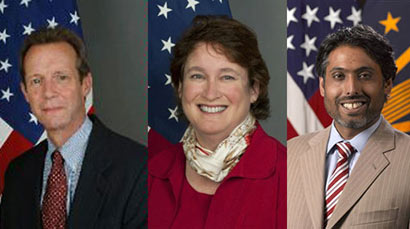 Submitted by Walter Jayawardhana
The US decision to sponsor a procedural resolution at the March 2013 UN Human Rights Council against Sri Lanka was also prompted by the impeachment of the country's Chief Justice Dr. Shirani Bandaranayaka, the US has announced.
The US announced that the Government's impeachment of the country's chief justice, despite two court rulings that the process was illegal and against the constitution, also contributed to the US decision for a fresh resolution.
The US will bring a fresh resolution to the UN Human Rights Council in a bid to force Sri Lanka to deliver on promises to investigate its troops for war crimes, top US diplomats say after talks with Colombo.
'The US has decided to sponsor a procedural resolution (against Sri Lanka) at the March 2013 sessions of the UNHRC,' Deputy Assistant Secretary of State, James Moore said.
The US recognised Sri Lanka had made 'some progress' since the previous US-led censure of Sri Lanka at the March 2012 UNHRC sessions in Geneva, but Washington believed more needed to be done, Mr Moore said.
'The US and the other 23 members of the UNHRC who voted for that resolution in 2012 believe that the government of Sri Lanka needs to fulfil its commitments made to its own people,' Mr Moore said.
He said the fresh resolution to be moved in March was a reflection of 'US commitment' to the people of Sri Lanka, which emerged from nearly 37 years of ethnic bloodshed in May 2009 after security forces crushed Tamil rebels.
The US has been highly critical of Sri Lanka's human rights record and has refused to train several of its senior military officers, saying they were linked to credible allegations of war crimes and crimes against humanity.
Another top US diplomat, Deputy Assistant Secretary of Defence, Vikram Singh, said the US wanted to keep Sri Lanka's case fresh at Geneva by moving a new resolution against the Indian Ocean island.  (Courtesy Sky News)
Latest Headlines in Sri Lanka