Is India compromising on Tamils issue? Karunanidhi
Posted by Editor on January 29, 2013 - 3:40 pm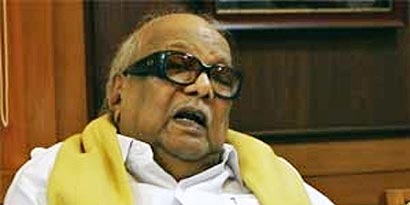 Submitted by Walter Jayawardhana
In the light of India's announcement that it could continue to train Sri Lankan military in the country, key UPA constituent DMK on Friday said there was a 'doubt' if India was 'compromising' on some issues such as Sri Lankan Tamils to show itself as a 'neutral' country.
In a letter to partymen, the 88-year-old leader said that since 1956, his party had been consistently voicing support for Sri Lankan Tamils, irrespective of being in power or not.
"While the Centre has assured obliging various demands put forth by us, there is a doubt in some if India is compromising on some issues to show itself as a neutral country among others," he said.
For instance, he said it was the party's stand that India should not train Sri Lankan military personnel in any part of the country but the central government could not "categorically" state the same.
Referring to the January 23 statement made by Defence Minister A.K. Antony, Mr. Karunanidhi said the former had noted that while keeping Sri Lankan defence men away from Tamil Nadu they will still be trained elsewhere in the country.
"There are military institutions in many parts of India and outside Tamil Nadu also. On one side, we will respect sentiments of Tamil Nadu and we will avoid that area. At the same time, in other institutions, we will complete the training (of Sri Lankans) as per our commitment," Mr. Antony had said.
The DMK chief recalled that Mr. Antony had also rejected visiting Sri Lankan Foreign Minister G.L. Peiris' contention that Tamil Nadu politicians were cynical in raising objections to training of its military personnel saying sentiments of the people of the state have to be respected.
Mr. Antony had also said relief and rehabilitation in the neighbouring country was not going on expected speed, Mr. Karunanidhi noted.
To highlight the plight of Sri Lankan Tamils, 14 resolutions were adopted in last year's pro-Tamil TESO conference here which have been handed over to the UN, he said, adding, he had also taken up Tamils' cause with Prime Minister Manmohan Singh who, he said, had recognised the need to accord priority for Tamils' betterment.
Holding that he was "confident" that the March 2013 session of the Human Rights Council in UN will discuss the Tamils issue in detail, he aked India to take a "strong stand" in support of Lankan Tamils there. (Courtesy: The Hindu)
Latest Headlines in Sri Lanka