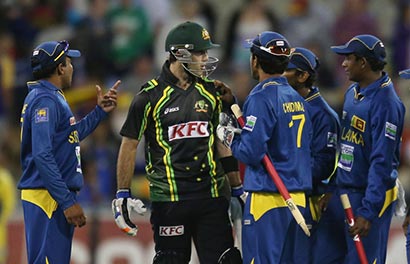 Australia and Sri Lanka are back on speaking terms after Glenn Maxwell visited the tourists' dressing room where both teams apologised for the fiery confrontation that marred Monday night's Twenty20 match at the MCG.
Sri Lanka's tour of Australia finished in ugly scenes as players argued on the field following the world number one team's two-run win in the second Twenty20.
The altercation started when all-rounder Maxwell, who needed four runs from the final ball to clinch victory for Australia, expressed his anger at Sri Lanka's drawn out team discussion before Thisara Perera beat the bat on the decisive delivery to clinch a 2-0 series result.
Sri Lanka's fielders had gathered around Perera to offer advice and stayed there for too long, prompting Maxwell to order the Sri Lankans to get on with it in no uncertain terms.
Sri Lanka veteran Mahela Jayawardene then yelled back at Maxwell and the pair clashed immediately after the match in a nose-to-nose argument while Perera taunted Maxwell.
Australian players, including Matthew Wade and George Bailey, also bickered with Jayawardene and Perera during the on-field handshakes.
"I went into the Sri Lankan rooms after and they apologised for going over the top. All good," Maxwell said on twitter.
The Victorian took to Twitter again on Tuesday morning to admit he was also at fault.
"Just to clarify . . . I apologized (sic) to Mahela and SL players as well. I have a good friendship with Mahela, and it's gonna stay that way!"
Captain Bailey told reporters a fierce desire to win from both teams had caused the dispute.
"Passion mate. People care about the game and care about the way they play," he said.
"I know we get along very well with this side. Even just the chats there coming off, I think it's all just heat-of-the-moment stuff.
"But I think what you're seeing is individuals and teams that are pretty keen to win."
Jayawardene concurred.
"To be honest it was just the heat of the moment. Things happen and you exchange a few words," he said.
"They play it hard and we play it hard. After the game you are friends." (Sportal)