'There are bigger things than getting out or not out on 199'
Posted by Editor on June 25, 2012 - 8:47 am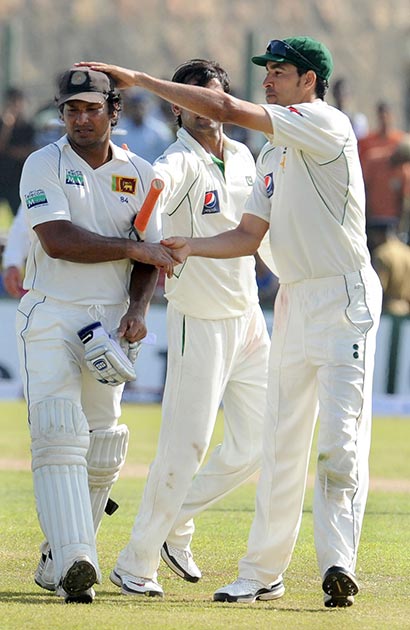 Kumar Sangakkara, who was left stranded on 199 during the second day between Sri Lanka v Pakistan 1st Test, said that there are bigger things that getting out or not out on 199.
He wasn't laughing, though, when he watched Sri Lanka's No. 11, Nuwan Pradeep, get bowled by Mohammad Hafeez's offbreak. Sangakkara had become only the second batsman, after Andy Flower, to get stranded on 199 in Tests. Cricket, being such a numbers obsessed game, will probably remember his innings for the one run he didn't get, rather than the labour behind the 199 achieved in just under two days in sultry Galle.
Sangakkara said there was no point beating himself up for what had happened. "I was thinking about getting as close as possible [to 200] so if I'm a shot away, I'll take that shot on," he said. "It was a case of trying to farm the strike with the tailenders, with the hope that we could get to a total of 500. I don't usually count until I'm six or seven short of where I want to be.
"The scoreboard showed 194 and so did the screen, so what can you do, that's life. It [the scorecard error] was an honest mistake. You've got to learn to live with disappointments. I'd rather be on 199 than 1 or 2 or 0."
There were references to his heroic 192 against Australia in Hobart, where he was denied a double-century due to an umpiring error, for which Rudi Koertzen apologised later. Sangakkara said experience had taught him to deal with such setbacks.
"You need to be on your own for five minutes, take a few deep breaths, calm yourself," he said. "It's strange how you change as a player. When you're young, you're angry and you throw the bat in the dressing room. Now, when you go back and take a breather, you realise there are bigger things than getting out or not out on 199. As long as you put everything in perspective, you'll be fine. You just have to stay calm.
"It's also my dad's birthday today, and he's been coaching me since I was 14 so I might not have to buy him a gift."
There was plenty to be satisfied about. During his unbeaten 199, Sangakkara became the quickest to 2000 Test runs against a single opponent, reaching the milestone in 26 innings. He was faster than Sunil Gavaskar (28 innings v West Indies), Brian Lara (28 v England) and Don Bradman (29 v England). (ESPNcricinfo and agencies)
Latest Headlines in Sri Lanka