"Those accusing the government never marched troops to defeat terrorism" – Secretary Defence
Posted by Editor on March 14, 2011 - 11:38 am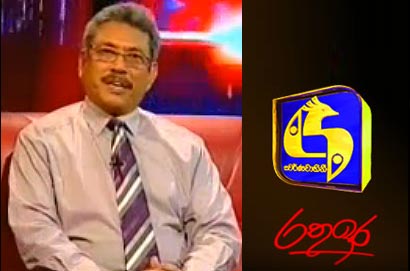 In 2005 when H.E President appointed me as Secretary Defence to take in charge of the security forces the term 'war hero' was alien to this nation, the men in uniform were treated as third citizens. Now those who are accusing the government of involving security forces in development work were neither able to march the valiant men into battle which they were trained for.
Secretary Defence Gotabaya Rajapaksa expressed these views in the exclusive Rathuira talk show on Swarnavahini yesterday (March 13) evening. He made these comments in reply to a question raised by the host on allegations by opposition groups- involving security forces for development work.
"Every one knows how we suffered for decades. The MOD has initiated various programmes and we are not asleep that the war is over. We will never giveaway for any sort of terrorist organization its front offices or Disapora elements to derail this country's long won peace" he said.
"Those who are claiming to represent 'Tamils' are third generation diaspora children with no clear knowing of the root causes that led to the surge of terrorist violence in this country. Hence, we are in the effort of taking into talks with such groups, educating them on the actual ground situation while engaging them in the development and reconciliation work in North and East", he further said.
Source: Ministry Of Defence – Sri Lanka
Latest Headlines in Sri Lanka