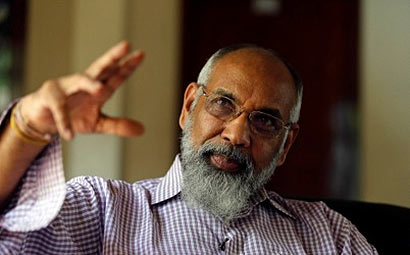 It is time the 13th Amendment was replaced with a more dynamic system of devolution of powers, according to Sri Lanka's Northern Province Chief Minister C.V. Wigneswaran.
Speaking to The Hindu days ahead of Prime Minister Narendra Modi's visit to Sri Lanka, the former Supreme Court judge said: "[The] 13th Amendment can never be the final solution. Be that as it may, we welcome him [Mr. Modi]. We know we have a friend in him. We appreciate his concerns for us, in wanting to come to the North."
"We would recommend to him that it is time to reconsider the 13th Amendment which was a fallout from the Indo-Sri Lanka Accord of 1987 and to replace it with a more dynamic system that would ensure maximum power sharing for the North and East," he said responding to The Hindu's questions via email.
Mr. Modi will be in Sri Lanka on a two-day visit beginning Friday. He will travel to the island's war-torn Northern Province where Mr. Wigneswaran won a historic provincial election in September 2013.
Ever since the Chief Minister and the Tamil National Alliance (TNA) — the main party representing the Northern Tamils — have been pointing to hurdles in governance due to the limited powers.
As "a proponent and an advocate of devolution," Mr. Modi would appreciate the situation in Sri Lanka, the Chief Minister said. "Especially the inadequacies of the 13th Amendment would no doubt be understood by him. His visit and understanding would be very vital in the ultimate finalisation of our constitutional problems." From the time Sri Lanka's ethnic conflict ended in May 2009, New Delhi has been pushing Colombo for the full implementation of the 13th Amendment, following up on former President Mahinda Rajapaksa's earlier assurance.
Pointing to the Indian model of power sharing between the Centre and the States, Mr. Wigneswaran said it was the quantum of devolution prevalent under the Indian Constitution that made possible Mr. Modi's "excellent leadership" and "people-centred approach that transformed Gujarat." In comparison, under Sri Lanka's unitary Constitution, there was "no chance of our performing the way Hon. Modi performed."
On the changes after former President Mahinda Rajapaksa was unseated, he said President Maithripala Sirisena was "refreshingly different" but certain sections of the new government were acting irresponsibly "following the age-old political tactics of the past which had led to the worsening of the ethnic issue," adding that the regime change was not an end in itself.
The Chief Minister suggested that the Indian Government, Sri Lankan Government and the Northern Provincial Council engage in talks, "without taking refuge under protocols" to find ways of resolving the central problem of the Tamil speaking people. India could play a positive role in bringing about such a change in political culture, he said.
"Let us not forget when [the] Indo-Lanka Accord was negotiated as a solution to Tamil Question, India whilst addressing Indian security and strategic concerns, stood as a guarantor on behalf of the Tamils of North-East"
Asked to comment on Sri Lankan Prime Minister's recent remarks that it was legitimate "to shoot" Indian fishermen found poaching in Sri Lankan waters, Mr. Wigneswaran said they were "inappropriate statements by a Prime Minister of a friendly country of India, a country which has very close socio cultural and religious ties."
(The Hindu)