TNA Leader Sampanthan meets President Rajapaksa
Posted by Editor on October 4, 2013 - 5:18 pm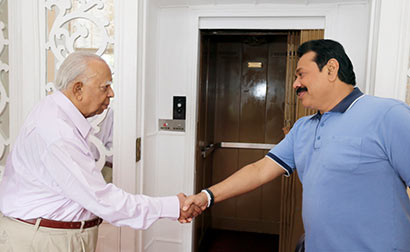 – by Janaka Alahapperuma – Pix by: Sudath Silva –
A special discussion between President Mahinda Rajapaksa and Tamil National Alliance (TNA) Leader R. Sampanthan was held at President's House today on 04 October. The meeting between the two leaders took place this morning at 8.30 am and the pair last met in July this year to talk about the parliamentary select committees. The intention of the today's meeting was to discuss about the swearing in of Northern Province Chief Minister C.V. Wigneshwaran who was elected in the recently held PC elections. Secretary to the President Lalith Weeratunga was present at the occasion.
Meanwhile TNA is also having a special meeting in Colombo on the final arrangements of the sworn in ceremony for the newly elected Northern Provincial Council Chief Minister, council members and the naming of the PC ministers. Sources close to the party informed that the heads of all the TNA coalitions and parliamentarians are participating in the discussion.
However some coalition members of the TNA have criticised and expressed their unwillingness to allow its Chief Minister to be sworn in before the Northern Province's Governor and retired Major General G.A. Chandrasiri since the TNA captured 28 seats and two bonus seats (total 30 seats) in the 38 seat Northern PC. Therefore the sources said they have decided to invite President Rajapaksa to Jaffna to administer the oath of office to the country's first Chief Minister of the North in a gesture of goodwill.
Former Supreme Court judge C.V. Vigneswaran obtained the highest preference votes in the Jaffna District with a total of 132,255 votes, and was unanimously selected to the post in a post- election meeting by the 28 TNA candidates who were elected for the Northern Provincial Council. However former judge Vigneswaran received his letter of appointment as the Northern Province Chief Minister from the Governor of the Province Major General (retd) G.A. Chandrasiri at the Governor's office in Jaffna on last Tuesday (01 Oct).
Latest Headlines in Sri Lanka