Be humble and serve the masses – President
Posted by Editor on October 4, 2013 - 11:07 am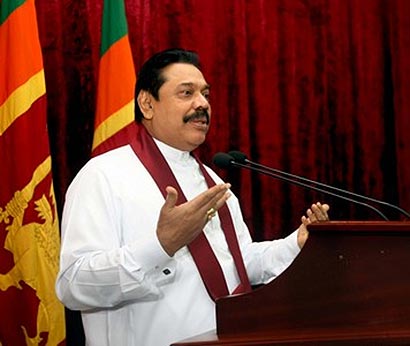 All victorious candidates of the United People's Freedom Alliance at the recently concluded Provincial polls should dedicate themselves to serving in general to their Province and the country rather than figuring out a certain community, religion or caste.
This was stated by President Mahinda Rajapaksa at the Presidential Secretariat yesterday addressing the newly elected members of the Central and Northwestern provinces.   The President first wished the newly elected members and said he considered their achievement as the victory of the people.
The President said that while being proud of the victory, everyone should become more humble and prevent from being intoxicated by this victory.
He said that the entire province comes under the jurisdiction of the Chief Minister, and he is not a Chief Minister to a certain area and also not for a particular community, religion or caste.
The President called on the members to serve in general to the entire Province. He emphasized that character assassination is noteworthy in politics, and urged the members to refrain from such low grade acts.
General Secretary of the United People's Freedom Alliance and Minister Susil Premajayantha and General Secretary of the Sri Lanka Freedom Party and Minister Maithripala Sirisena also expressed their views at this swearing-in ceremony held at the Presidential Secretariat.
Minister Susil Premajayantha said that after being elected as member of the Alliance, everyone has to adhere to the Constitution of the Alliance irrespective of the Party he belongs to.
General Secretary of the Sri Lanka Freedom Party Minister Maithripala Sirisena said that adhering to the policy and philosophy of the party is important when working together and expressing views. Party discipline and respecting the leadership are also important. He said that the victories so far achieved under the leadership of the President should be enhanced nationally as well as internationally. He called on them to work in unity.
Members of the Maha Sangha, Prime Minister D.M. Jayaratne, Party Leaders and many Parliamentarians were present at the occasion.(niz)
(Courtesy: Government News Portal)
Latest Headlines in Sri Lanka