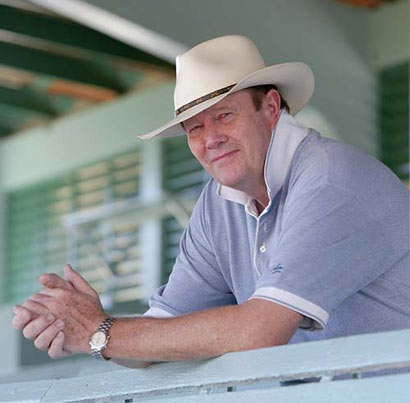 Former England captain and cricket commentator Tony Greig has died after suffering a heart attack. He was 66.
Greig had recently been diagnosed with lung cancer, but he suffered a heart attack at his home on Saturday morning and died about 1.45pm (AEDT).
"He was rushed into St Vincent's hospital. The staff of the emergency department worked on Mr Greig to no avail," St Vincent's spokesman David Faktor said.
He said it's understood his family were with him when he died.
The Sydney-based, South Africa-born Greig was initially diagnosed with bronchitis in May, but the condition lingered and in October he had tests that revealed a small lesion at the base of his right lung.
Upon his return to Australia from the World Twenty20 in Sri Lanka, he had fluid removed from the right lung and testing revealed he had lung cancer.
He spoke last month of his battle.
"It's not good. The truth is I've got lung cancer. Now it's a case of what they can do," Greig told Nine at the time.
An abrasive character who loved stirring up Aussie crowds during the 1974-75 Ashes series, Greig played 58 Tests and boasted an handy allround record of 3599 runs at 40.43 and 141 wickets at 32.20.
Greig was a key figure in recruiting English and other international players for media tycoon Kerry Packer's breakaway World Series Cricket which was staged from 1977 to 1979 and sent shockwaves through the arch-conservative sport.
Packer's rebel series was his response to the Australian Cricket Board's refusal to give Packer's Nine Network exclusive Test broadcast rights.
WSC helped improve remunerations for players and dragged the sport into the modern age of day-night matches.
In the 1980s, Greig became a high-profile member of the Nine Network's cricket commentary team and continued in the role until ill health sidelined him only a couple of months ago.
"Tony Greig is a name synonymous with Australian cricket – from his playing days as the English captain we loved to hate, to his senior role in the revolution of World Series Cricket, his infamous car keys in the pitch reports and more than three decades of colourful and expert commentary," Nine said.
Greig's involvement in WSC caused an abrupt end to his international playing career.
"He lost not just England's captaincy, but what would have been a record-breaking benefit," respected cricket writer Gideon Haigh wrote on the cricinfo website.
"He was diminished, too, by his indifferent on-field performances in World Series Cricket, where he seemed to cast himself as pantomime villain.
"Nonetheless, subsequent generations of professional cricketers owe him a debt of gratitude."
Former Australian pace bowler Glenn McGrath, Australia coach Mickey Arthur and Pakistan coach Dav Whatmore were among those to pay tribute to Greig on Twitter on Saturday.
"RIP-Tony Greig. A very good man!", Arthur said.
Whatmore, a former Australian Test batsman, said: "Just landed in chennai and learnt of Tony Greig's passing. Deepest sympathies to his family. Great man, great career. He will be missed."
Source: AAP