Tony Ranasinghe passes away
Posted by Editor on June 16, 2015 - 9:07 am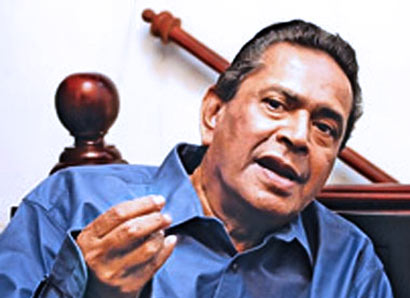 Veteran actor Tony Ranasinghe has passed away at the age of 77 at a private hospital in Colombo.
Tony Ranasinghe was born in July 31, 1937 in Modara. He studied at St. Anthoy`s College Wattala and De LaSalle College, Modera. Ranasinghe began his career in theatre with a role in Ran Thodu in 1963 which won him the Governor General's Award for Best Stage Actor. Ranasinghe debuted in film with Lester James Peries' Gamperaliya (1964) and followed it with Ran Salu. He worked with Peries' again on Delovak Athara in a starring role.
Ranasinghe was awarded the Best Supporting Actor Sarasaviya Award in 1966 for his role in Parasathu Mal. Subsequently he won Best Actor Awards for Hanthane Kathawa (1969), Duhulu Malak (1976) and Ahasin Polawata (1979). In 1980 he played the father of the protagonist in Ganga Addara. 1993's Saptha Kanya won him Best Actor Awards from Sarasaviya, Swarna Sanka, Presidential and OCIC. Ranasinghe has dabbled in screenplay writing winning Sarasaviya Awards for Koti Waligaya, Keli Mandala, Awaragira (1995) and Pavuru Walalu.
Filmography
Parasathu Mal -1966
Gamperaliya -1964
Hanthane Kathawa – 1969
Duhulu Malak -1976
Ahasin Polawata-1979
Ganga Addara-1980
Saptha Kanya-1993
Pavuru Walalu
(Courtesy: Ada Derana)
Latest Headlines in Sri Lanka