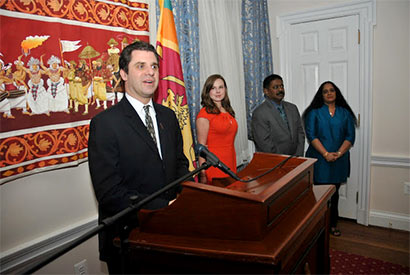 Washington, April 10, 2013 : "Sri Lanka has many attractions for its visitors, the best being the twenty million smiles awaiting to  greet you" opined Ambassador Jaliya Wickramasuriya, Sri Lanka's envoy to the United States.
He highlighted that Sri Lanka affords a grand array of interesting and exciting opportunities for a traveler to experience from a single visit.
"Adding to Sri Lanka's incomparable hospitality, you will find pristine beaches , misty mountains , UNESCO declared world heritage  sites , the best safaris , exciting adventures and entertainment all captured in an Island  similar in size to West  Virginia" , he added.
Ambassador Wickramasuriya made these remarks when he welcomed a group of young professionals in Washington DC during  a dinner reception at the Sri Lanka Residence on Friday, April 5th . The event was organized by the Embassy of Sri Lanka in partnership with Things to Do DC , a premier young professionals organization in the greater Washington area.
Ambassador Wickramasuriya briefed the audience on post conflict developments  in Sri Lanka .
"We are not just a nation with friendly people but also a nation governed by democracy , human rights and the rule of law", he added.
"Under the visionary leadership of  His Excellency President Mahinda Rajapaksa , Sri Lanka has become a peaceful and reconciled society. The latest UNDP report upgraded Sri Lanka's Human Development Index rank from medium to high, the highest in the region.  During the last five years, Sri Lanka has climbed five positions  in the HDI ranking. According to the latest UNDP statistics, our adult literacy rate is 91.2%, population in severe poverty is less than 0.6% and trust in the national government is 86%. In fact, in almost all social indicators related to human development Sri Lanka ranks very high in the region," he averred.
Chief Executive of Things to Do DC Gregory Bland speaking on the occasion said that this event is a great opportunity for  Washington professionals to learn more about Sri Lanka .
"Tonight you will meet some of the friendliest diplomats that you will meet at any of the Embassies in Washington . So now we have an excellent opportunity to learn about Sri Lanka before travelling there" , he said.
He profusely thanked  Ambassador Wickramasuriya and the Embassy officials for organizing this memorable event at the Sri Lanka Residence in Washington DC.
The event also featured a tea tasting ceremony introducing world renowned Ceylon Tea to the guests. A touch of Sri Lankan culture was also added to the event when Sri Lankan choreographer Chathuri Wickramarachchi together with Sarindee Wickramasuriya presented  traditional dance performances. Another well received attraction, was the  Sri Lanka   fashion display which provided an opportunity for the assembled guests to experience wearing traditional Sri Lankan attire including Sarees , Batik Shirts and Sarongs.
The young professionals also had the opportunity to view a documentary on Sri Lanka and were provided with gift packs of Ceylon Tea and tourism promotion material.
The guests enjoyed  delectable traditional Sri Lankan cuisine prepared by the Embassy chefs.