Two people killed in Sri Lanka pre-poll attacks
Posted by Editor on January 19, 2010 - 12:55 pm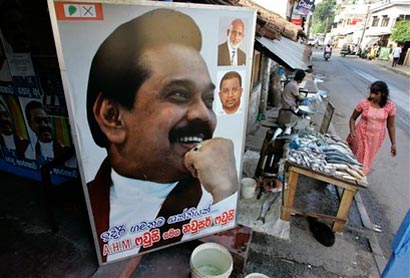 Two people have been killed in separate attacks in Sri Lanka ahead of a presidential election next week, officials say.
A supporter of opposition candidate Gen Sarath Fonseka was killed in a clash involving ruling party activists in the north-western town of Waryiapola.
Later, a ruling party supporter was killed in a nearby town when a ruling party campaign office was bombed.
The 26 January presidential election is taking place amid heightened tension.
Gen Fonseka is the main rival to President Rajapaksa.
He resigned from his post as chief of defence staff in November following differences with the government over who should take credit for defeating the Tamil Tiger rebels last May.
'Concerned'
In the attack in Waryiapola, about 60km (37 miles) north-east of Colombo, supporters of Gen Fonseka were attacked while putting up election posters, police said.
"One man was killed and several others sustained injuries," the AFP news agency quoted a spokesman for the police election secretariat as saying.
The bomb attack in Kurunegala, about 15km south-east of Waryiapola, came a few hours later. At least six people were injured.
Previous elections in Sri Lanka have been marred by violence. Police say they have received reports of about 600 incidents of violence connected to the forthcoming election.
President Rajapaksa, who is running for a second term, has ordered a security crackdown, his spokesman Chandrapala Liyanage said.
"The president is deeply concerned about the violence and has already ordered police to make sure that there is tighter security," AFP quoted Mr Liyanage as saying.
"He is also appealing to all parties to ensure there is no violence."
A supporter of Gen Fonseka – 60-year-old Kusuma Kuruppuarachchi – was the first to be killed in the campaign when she was shot in the southern town of Hungama last week.
On Saturday 19-year-old Aruna Saman Kumara, a supporter of the ruling coalition, was killed in a clash with supporters of Gen Fonseka.
The Sri Lankan army defeated the Tamil Tiger rebels last May, ending 26 years of civil war.
The rebels were fighting for a separate Tamil homeland.
Source: BBC
Latest Headlines in Sri Lanka