U.K. MPS SAY KUDANKULAM IS DANGEROUS AS IT IS IN A TSUNAMI AND EARTH QUAKE PRONE AREA
Posted by Editor on May 18, 2012 - 6:06 pm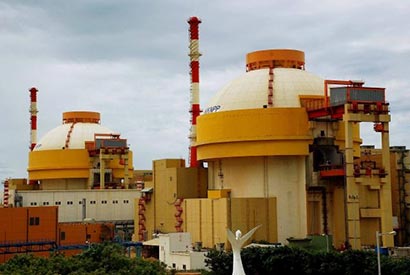 Onlanka News – By Walter Jayawardhana
British and European parliamentarians said in a letter to Indian Prime Minister Manmohan Singhe that they are deeply concerned about Tamil Nadu's Kudankulam nuclear power plant as it is located in a an earth-quake and tsunami prone area, factors that push accidents.
The power plant , they argued ,"violates" the International Atomic Energy Agency's safety  guidelines.
The Press Trust of India from London filed the following report:
British MPs and members of the European Parliament have signed a letter from South Asian anti-nuclear groups to Prime Minister Manmohan Singh expressing "deep concern" over human rights and environmental issues around the controversial Kudankulam Nuclear Power Project (KKNPP) which they argue "violates" the International Atomic Energy Agency (IAEA)'s safety guidelines.
The letter, to be handed to the Indian High Commission after a protest planned outside India House on Friday, also demands withdrawal of police and court cases against the anti-KKNPP protesters, accusing the security forces of "intimidation" and "harassment."
"Non-violent protesters are being intimidated, harassed, imprisoned, and falsely charged. We understand that from one police station alone, charges have been brought against more than 50,000 people including about 6,500 for sedition and 'war against the State' in the last eight months," it says.
Signatories include Labour MPs Jeremy Corbyn and John McDonnell; Green Party's Caroline Lucas and its MEP Keith Taylor; and Kate Hudson of the Campaign for Nuclear Disarmament.
A spokesperson of the South Asia Solidarity Group said more MPs were expected to sign the letter, a copy of which would also be sent to Tamil Nadu Chief Minister Jayalalithaa.
'Quake-prone region'
Calling for a "halt" to the project, the letter says it is a safety hazard as it is located in "a tsunami and earthquake-prone region."
"It is also in violation of the mandatory requirement for construction of fresh water reservoirs which are essential in case of a nuclear accident. This is significant, because fresh water is the only remedy in the event of a nuclear emergency. The primary cause for all major accidents such as at Three Mile Island, Chernobyl and Fukushima was lack of fresh water," it says.
It demands that all reports, reviews and information related to the nuclear plant be "made transparent and accessible to the public."
The signatories say that they "fully appreciate" India's energy needs but argue that security considerations cannot be brushed aside. "We implore that alternative measures be investigated and invested in, rather than resorting to nuclear power plants in ecologically unsound circumstances," they say.
Latest Headlines in Sri Lanka