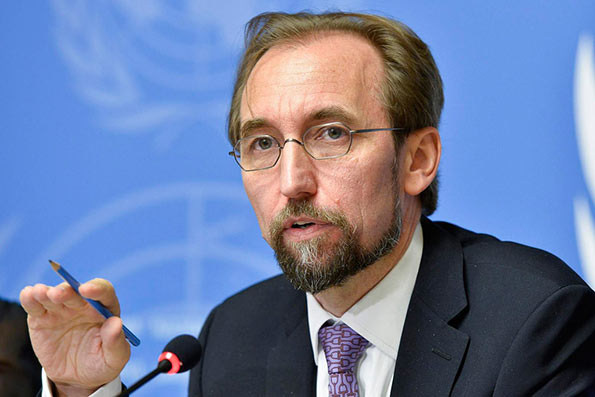 Sri Lanka must investigate reports of secret places of detention and set up a "credible and independent" body to clarify the fate of people missing since the long war that ended in 2009, the United Nations said on Wednesday.
Some Tamils allege that the military maintains detention centers and tortures former Tamil rebels who surrendered after defeat. The military rejects the charge. Tamils who went missing in the war's final phase are alleged to range from many thousands to a few hundred.
"Reports have continued to suggest the existence of secret and unacknowledged places of detention. These require urgent investigation," Zeid Ra'ad al-Hussein, U.N. High Commissioner for Human Rights, said in a speech.
The presidential commission to investigate missing persons should be "disbanded and its pending cases transferred to a credible and independent institution", he said.
The government has yet to clarify the number and identity of detainees still held under the Prevention of Terrorism Act, Zeid said, citing credible reports from activists that 19 people have been arrested this year and some have been tortured.
Surveillance and interference continue in the mainly Tamil areas in the north and east, "including harassment and intimidation by military and intelligence services", he said, calling for fundamental reform of the security sector.
He was addressing the U.N. Human Rights Council in Geneva by videolink from New York a day before the 47 member state forum is expected to adopt a resolution that seeks justice for victims of the 26-year war.
The resolution, co-sponsored by Sri Lanka, fails to specify the powers and role of foreign prosecutors and judges in trying war crimes suspects under a national mechanism – a major shortcoming, in the eyes of activists.
Reformist President Maithripala Sirisena, elected in January, has pledged to pursue perpetrators and in an address to the U.N. General Assembly in New York said he had two objectives – sustainable development and reconciliation.
"A fundamental requirement in this context is dealing with the past honesty and building a modern Sri Lankan nation," he said. "In dealing with the past, we will follow a process of truth seeking, justice, reparation and non-recurrence."
A judicial process with teeth would hold out a realistic prospect of punishment for senior figures in ex-president Mahinda Rajapaksa's government and military, as well as Tamil Tiger rebels, who waged a bitter final battle in which the U.N. has said up to 40,000 people were killed.
"While initial progress has been made by the new government in strengthening democratic institutions, land restitution and finding solutions for internally displaced people, much more work remains to be done, including ensuring justice and accountability," U.S. Ambassador Keith Harper told the rights council.
The resolution is not binding, but seen as a commitment by the government, which will have to report back to the council on its progress.
(Reuters)