Udayanga released as per UAE law and 'Blue Notice' rules Foreign Ministry confirms ex-envoy's release
Posted by Editor on February 10, 2018 - 7:49 am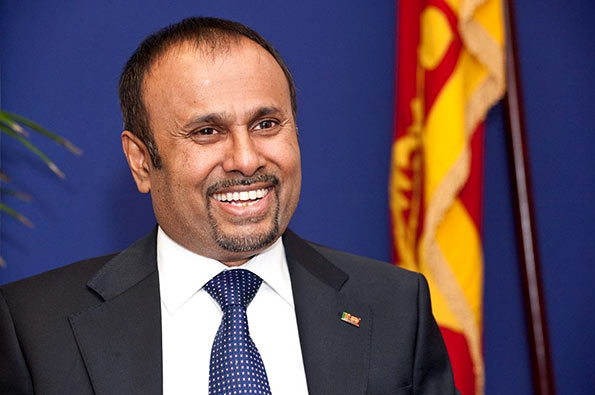 The speculations surrounding the release of former Ambassador to Russia and Ukraine, Udayanga Weeratunga, by a Dubai Court was confirmed by the Ministry of Foreign Affairs (MFA) yesterday (9).
The MFA further noted that the Financial Crimes Investigation Division (FCID), which is investigating the allegations and complaints against him, are working with the Interpol in Dubai with the aim of repatriating him to Sri Lanka.
It is said that the Sri Lankan Embassy in Dubai has also retained lawyers in the United Arab Emirates (UAE), specializing in immigration matters, to advice the Government of Sri Lanka on his release and getting him deported to Sri Lanka.
In this connection, a delegation comprising Sri Lankan officials from the MFA, the Attorney General's Department and the FCID are currently in the UAE, having discussions with the concerned authorities with the aim of having Weeratunga deported to Sri Lanka to answer the allegations levelled against him, the MFA said. Weeratunga who had been evading an arrest warrant issued on 20 October, 2016, by the Colombo Magistrate, the MFA said was detained and later released by a Dubai Court as he was under a 'Blue Notice' of the Interpol.
Clarifying further as to why a UAE Court had released him, the MFA said that the law in the UAE and the rules governing the Interpol 'Blue Notice' prevented the continued detention of Weeratunga, hence he was released by the UAE authorities but was ,however, prevented from leaving the country.
The MFA said that on the basis of a 'Blue Notice' obtained by Interpol Sri Lanka on Weeratunga, Sri Lankan authorities have been working through mutual legal assistance with a number of countries to trace his whereabouts. "He was intercepted in the UAE on 4 February 2018 when he attempted to leave to the United States. This arrest was made on the basis of a 'Blue Notice' issued by the Interpol. The purpose of this notice was to trace and locate Weeratunga 'as a person of interest in a criminal investigation'," the MFA noted. Weeratunga's arrest warrant is in relation to the ongoing investigations pertaining to the alleged embezzlement of public funds to the tune of US$ 7.833 million in connection to the procurement of MiG aircraft, and money laundering that are alleged to have taken place during the former regime.
However, as the Police in the UAE are investigating this matter, and Weeratunga has been prevented from leaving UAE territory until the conclusion of these investigations, the MFA pointed out.
(Source: Ceylon Today)
Latest Headlines in Sri Lanka