UN shies away from query on Maj.Gen. Shavendra
Posted by Editor on August 26, 2010 - 11:40 am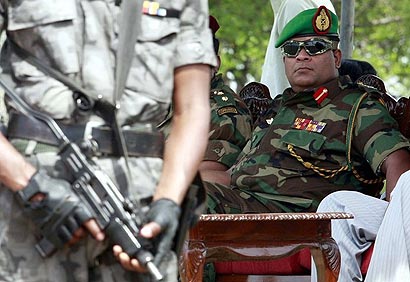 News Courtesy: Ada Derana
When questioned on the proposed appointment of Major General Shavendra Silva as the new Sri Lankan Deputy Permanent Representative to the UN, Martin Nesirky, the spokesman for Secretary General Ban Ki-moon shied away without a definitive answer.
What I want to know is, if these reports in Sri Lanka are true, and if such individuals that were actively involved in the final stage of the conflict in Sri Lanka, which is now being investigated by Sri Lanka and advised in, does the Secretary-General have to accept a…a…when he says he accepts credentials, is this an automatic rubber stamp?, the reporter questioned.
Ban Ki-Moon's spokesman answered saying, On the general point about the procedure, I would need to find out. I do not know. But on the specific, I'm not going to enter into hypotheticals.
Latest Headlines in Sri Lanka