UNHRC Lists Out Urgent Tasks For Lankan Government
Posted by Editor on April 16, 2015 - 8:18 am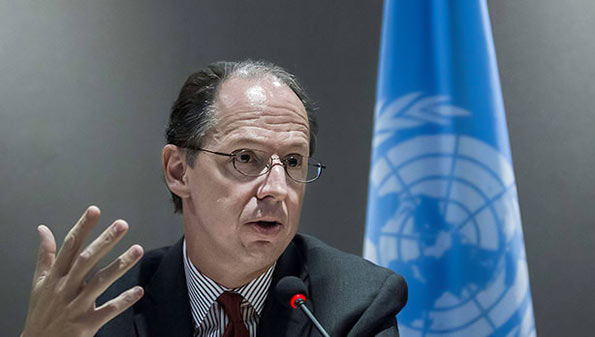 The United Nations Human Rights Council (UNHRC) has listed out certain urgent tasks for the Sri Lanka government so that the charges of human rights abuses and war crimes are meaningfully addressed in a reasonable period of time.
Pablo de Greiff,  UNHRC Special Rapporteur for Truth, Justice, Reparation and Guarantees of Non-Recurrence said in his report on Tuesday, that Lanka should take "immediate action" to clarify the fate of the disappeared; refrain from arbitrary detentions; address land issues; and put an immediate end to continuing forms of harassment, violence and unjustified surveillance of civil society and war victims, in particular women in the Eastern and Northern provinces.
De Greiff said that he is against traversing the time worn route of appointing commissions of inquiry, all of which have failed to deliver so far.
Transitional Justice
Serious consideration needs to be given to establishing "transitional justice" mechanisms that contribute to building lasting institutions and capacities, and which allow for effective implementation, he stressed.
While accepting reparations as a form of transitional justice, he opposed "conditioning reparation benefits on the victims' willingness to give up their rights to truth and justice."
Here he is alluding to attempts by the Rajapaksa government to force relatives of missing persons to accept death certificates and a solatium.
Consultation with those affected by the violations is essential because rights cannot simply be foisted but need to be exercised. Citizens cannot be simply presented with 'solutions' in the design of which they were given no role, de Greiff said.
Even Handedness
Government initiatives must track violations wherever they occurred and independently of the identity or affiliation of the victims or the perpetrators, he said.
In other words, it would not be fair to put all the blame on the Sinhalese majority and leave the Tamil Tigers out.
Finally, in a country in which there are, as a consequence of the conflict, close to 90,000 women-headed households, it is imperative to design and implement measures that take women's needs into account, the UN Rapporteur said.
(Indian Express)
Latest Headlines in Sri Lanka