UNP HAS NOT FULFILLED THE TASK OF OPPOSITION, SAYS K. D. LALKANTHA
Posted by Editor on January 24, 2011 - 11:23 am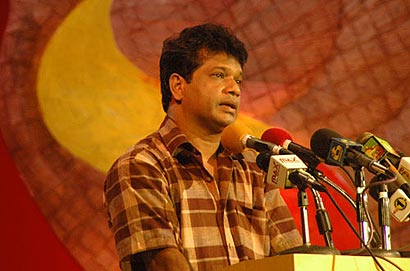 The UNP has not fulfilled the task of the Opposition, says K. D. Lalkantha, Chairman of the National Trade Union Center.
He made this comment while addressing the 6th national convention of the All Island Banking Employees Union in Colombo yesterday.
"Why are they not holding elections for the Anuradhapura Municipal Council. Is it because of the cricket match. Where are they playing the matches. There is no impact whatsoever.
"It is clear that if the Municipal Council elections are held, the government will lose. This is because a lot of pressure is being exerted on the urban community in the face of the sky rocketing cost of living and gas prices.
"When the country is facing so much of problems at present, has the UNP as the opposition carried out any suitable programme? The answer is no," said Lalkantha.
Source: News First
Latest Headlines in Sri Lanka