SLR earns Rs 77 m from ticketless passengers
Posted by Editor on January 24, 2011 - 9:48 am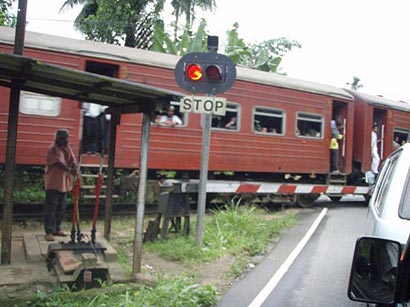 Sri Lanka Railways (SLR) arrested 14,044 people who were found travelling without tickets in trains and charged Rs 77 million from them in 2010.
The SLR recovered RS.4.8million as fines from the 8,840 ticketless travellers within the Colombo region while 3,204 people who were travelling without tickets have paid Rs 1.6 million in the Anuradhapura region last year. "The Railway authorities charged Rs 1.2 million from 2,000 people who were found travelling without tickets in trains in the Nawalapitiya region during the same year," a SLR Spokesman said.
This includes fines levied for travelling without tickets, travelling in the second class using a third class ticket, travelling beyond the destination mentioned in the ticket, illegal trading, and begging.
The Spokesman said that the highest number of people found travelling without tickets were 937. This was reported in October last year within the Colombo region. The highest number of ticketless travellers of 384 was reported within the Anuradhapura region in March 2010.
The highest amount in fines of Rs 520,745 and Rs 172,730 were recovered from ticketless travellers within the Colombo and Anuradhapura regions in July and December respectively.
"Officials of the Railway Protection Force (RPF) attached to the Sri Lanka Railways Security Force are engaged in conducting raids in trains operating on all directions across the country," the Spokesman said.
The people who violate the rules will be fined by the RPF on duty. If any passenger fails to pay the penalty the offender would be produced before the Court.
"Special checks will also be conducted in addition to routine checks that are carried out during rush hours," he said. "Collecting fines through ticket inspections will bring more revenue to the Department as well," he added.
Source: Daily News
Latest Headlines in Sri Lanka