UNP: Leadership battle intensifies, Ranil in the lead
Posted by Editor on December 7, 2011 - 7:46 am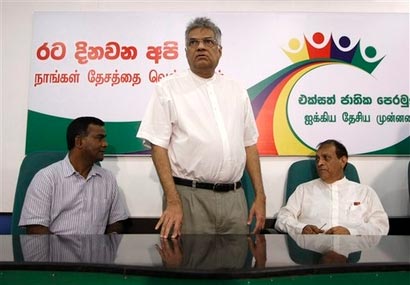 The battle for the UNP leadership has intensified, but the current numbers in the Working Committee appear to favour incumbent leader Ranil Wickremesinghe.
Informed sources told The Island, that according to the party constitution the Working Committee had to have a maximum of 94 members, of which 73 had already been appointed.
Wickremesinghe, as the leader was empowered to pick 20 members of which 18 had been appointed, sources said adding that of the 73 members, 39 were in favour of Wickremesinghe and 25 are with Jayasuriya, while nine remained undecided.
There are also 12 MPs who are not members of the Working Committee and they will not come into the equation right now, but will have a say mainly with matters pertaining to parliamentary proceedings.
According to the UNP constitution a secret ballot would have to be held, if a consensus cannot be reached in electing office bearers.
Wickremesinghe was keen to have the election today itself, but Jayasuriya wanted the entire Working Committee appointed, prior to a poll, sources said.
The last time the rebels launched a bid for the leadership, Sajith Premadasa, who was due to contest, withdrew at the eleventh hour, citing his concern for the party's unity as the reason.
Courtesy: The Island
Latest Headlines in Sri Lanka