UNP MPs attacked at Mattala
Posted by Editor on April 18, 2014 - 7:55 am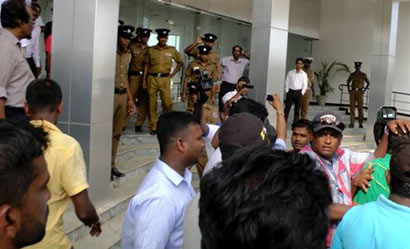 Five UNP Parliamentarians who were on an inspection tour of the Mattala Rajapaksa International Airport and the Hambantota Port yesterday (17) came under attack by a group of persons some of whom were armed with pistols.
MPs Eran Wickremaratne, Ajith Perera, Ajith Mannapperuma, Nalin Bandara and R. Yogarajan were accompanied by two engineers, a businessman, a financial expert and a lawyer.
 MP Wickremaratne told The Island that they had visited the two places after duly informing the authorities concerned of their schedule as it was their responsibility as a future government to inspect mega projects. On the other hand, he said, the Opposition MPshad been invited time and again in Parliament by the government to visit those projects.
He said after their visit to the airport they had been surrounded by a group of about 100 persons and at the port they had been accompanied by officials. Wickremaratne said that he had been questioned by the mob which turned aggressive and stones had been thrown at their vehicles causing damage to them. Some had also thrown rotten tomatoes and eggs at them, he said, adding that some of the thugs were armed with small firearms.
Wickremaratne said that they had escaped unhurt but no one present there had intervened to help them. He said that the incident showed clearly that there was no law and order in the country and it was a sad reflection on the government.
UNP MPs after returning to Colombo made a complaint to the IGP.
MP Ajith P Perera said that the MPs had a right to inspect government projects. "We asked for police protection but police did not provide any protection," he said.
Police spokesman SSP Ajith Rohana said that the UNP Parliamentarians should have informed the police of their visit in advance. "Had they made a request prior to their visit, we would have been able to make necessary arrangements."
 "Once we were informed that people were protesting against the visiting MPs, two police teams were rushed there and they were able to keep the MPs out of harm's way. The police escorted them safely to their bus despite the protests", SSP Rohana said.
(The Island)
Latest Headlines in Sri Lanka