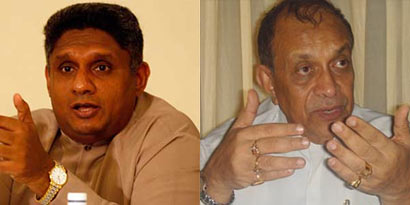 Former UNP Deputy Leader Sajith Premadasa, MP, yesterday said that those pushing for far reaching reforms, aimed at reviving the party, wouldn't accept a power sharing plan under any circumstances.
Hambantota District parliamentarian Premadasa insisted that the party couldn't deceive the electorate by introducing superficial changes. An irate Premadasa said that the Bhikku Peramuna, affiliated to the UNP, had formulated an eight-point plan to resolve the crisis in the wake of the party's latest stunning defeat at the Sept. 21 polls.
The UNP lost 39 out of 40 electorates in the districts of Kurunegala, Puttalam, Nuwara Eliya, Matale and Kandy, while registering a narrow victory only in the Kandy electorate.
The Tamil National Alliance (TNA), comprising the Ilankai Tamil Arasu Kadchi, the EPRLF, the TELO, the PLOTE and the EPRLF secured all 14 electorates in the Northern Province.
Asked whether he supported the proposed formula, Premadasa said that he along with MP Karu Jayasuriya endorsed it unanimously. "We need a workable plan to revive the party. Those wanting the party to return to power realise the urgent requirement for cohesive action. There is absolutely no point in phony changes."
Premadasa declined to specify the eight-point plan as talks were continuing.
UNP leader Ranil Wickremesinghe, too, made several proposals and recommendations leading to a general discussion on suggestions made by both sides at the Jawatte office of the party leader. Premadasa emphasised that talks involving the UNP leader, Karu Jayasuriya and him had to be put off for next week due to their failure to reach an agreement. Therefore, it was nothing but a blatant lie propagated by some interested parties that there had been an understanding on a power sharing plan.
Premaadsa described the talks as candid and amicable. However, the media coverage of Tuesday's talks, involving different parties, didn't reflect the actual situation, hence his decision to go public, he said.
Responding to a query, Premadasa said that at the conclusion of Tuesday's talks, he had declared his intention to set the record straight in case an attempt was made to deceive the public. The Hambantota District parliamentarian stressed that he intended to resist attempts to manipulate the negotiating process at the expense of the party.
The party was facing PC polls again in the Western, Southern and Uva Provinces beginning next April, the MP said.
(Courtesy: The Island)