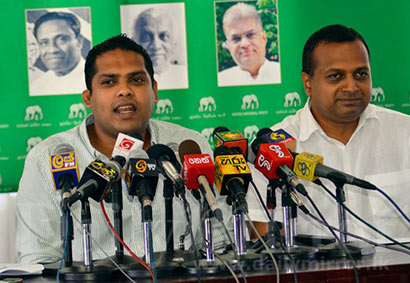 UNP parliamentarian Harin Fernando said today the party would undergo significant changes soon in the wake of the defeat at Saturday's elections to the three provincial councils.
"Senior party members including the party leader has sought our ideas as to the kind of changes that the party should be subjected to. We hope these changes will be introduced at the next working committee meeting to be held on October 7. A group carrying out contracts on behalf of the government is obstructing UNP attempts to rise up. Unless this matter is resolved, we won't be able to stand up as a party even if a new leader is appointed", Mr. Fernando said.
He said Dayasiri Jayasekara's claim of a possible computer 'jilmart' at the provincial council election was proved when marked ballot papers were recovered from a counting centre in Puttalam.
"I congratulate Dayasiri on his victory at a time when members of government and the opposition were trying to undermine his political campaign. I have no personal dispute with him. Whatever I did was with the intention of protecting my party," he said.
(Courtesy: DM Online)