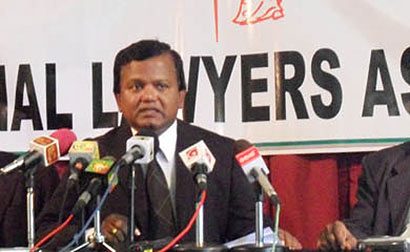 Top lawyer and outgoing Bar Association President Upul Jayasuriya has been appointed as the Chairman of the Board of Investments of Sri Lanka.
President Maithripala Sirisena appointed Mr. Jayasuriya who served as the First Legal Advisor of the Greater Colombo Economic Commission which was later transformed as the BOI in 1978.
The Royal College Colombo old boy, joined the Bar in 1976. He then joined the Attorney General's Department as a State Counsel on January 2, 1978, on the same day when several other legal luminaries including Supreme Court judges Justices Shirani Thilakawardena Rtd., Nimal Gamini Amaratunga, Rtd, Justice Priyasath Dep and Justice Sathya Hettige Rtd., joined the Department.
Jayasuriya was the Secretary of the Bar Association of Sri Lanka (BASL) from 1991 to1993 and elected to the post of the BASL President in February 2013 and led the Bar through one of the challenging periods in the country's legal history.
In 1982 he was appointed Chairman of Sri Lanka State Trading Tractor Corporation and in 1983 was awarded the Top Young Outstanding Professional Award by Jaycees Sri Lanka under the Entrepreneurship category for converting the corporation into a profit-making venture.
He was later appointed Chairman Ceylon Oils and Fats Corporation, Managing Director/CEO of Ceylon Chocolates Ltd in 1997 and held several company directorates and was also a member of the Board of Directors of Upali Investments Holdings Ltd. Mr. Jayasuriya founded Asian Finance Ltd., a company now engaged in financial business.
(Daily Mirror)