US may postpone UNHRC resolution against Sri Lanka
Posted by Editor on February 5, 2015 - 9:20 am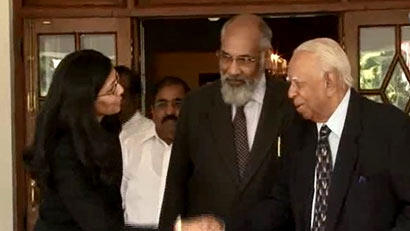 Keeping in view the delicate political situation in Sri Lanka, the United States may ask the UN Human Rights Council (UNHRC) to postpone the taking up of a resolution against it at its March session, informed sources in the Tamil National Alliance (TNA) told Express here on Wednesday.
US Assistant Secretary of State for South Asia, Nisha Biswal, had hinted at this during her interaction with TNA leaders on Tuesday, the sources said.
The US is very happy with the exit of the hostile government of Mahinda Rajapaksa and sees a bright future for US-Lanka relations during the tenure of President Maithripala Sirisena and Prime Minister Ranil Wickremesinghe. The US does not want to upset the Lankan apple cart by presenting a strong anti-Lankan resolution at the UNHRC.
Biswal is understood to have warned that a strong resolution accusing the island nation of committing war crimes will be exploited by ultra nationalist forces opposed to accommodation with the Tamils, which could in turn result in Rajapaksa's coming back to power through the June parliamentary elections.
The Sirisena government has a crowded and wide ranging agenda to fulfill in the first hundred days before it faces a very challenging parliamentary election. A strong resolution at the UNHRC at this juncture may take attention away from the politically crucial 100 day program, Biswal reportedly said.
However, TNA leaders told Biswal in no uncertain terms that they cannot allow the Tamil issue to be brushed under the carpet. Their fear is that once Colombo and Washington cozy up to each other, the Tamil issue will be put on the back burner and other bilateral issues will be brought to the fore.
"Now we are not sure if a resolution will be presented even at the next UNHRC session in September," a dejected TNA activist said.
"The Lankan government is looking after its interest. Washington and New Delhi look after their own interests. Nobody will look after the Tamils' interests except the Tamils. That is why we are speaking up," said a TNA MP.
The TNA complained to Biswal about the non-performance of the Sirisena government on the Tamil question. Basic issues such as devolution, land grabbing by the military, and resettlement of the war displaced, now living in 30 camps, are still to the attended to.
According to a Tamil MP, pilgrims who got permission to enter the High Security Zone at Myliddy in Jaffna district to perform pooja at a temple on Thai Poosam day, were shocked to find the Kovil gone and a hotel coming up in its place. Hotels are coming up in places which Tamils cannot enter, he said, New Indian Express reports.
Latest Headlines in Sri Lanka