Sri Lanka's new president to visit India, steers away from China
Posted by Editor on February 5, 2015 - 7:15 am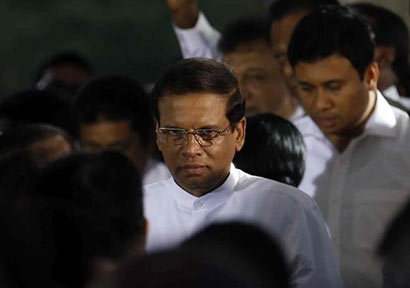 Sri Lanka's President Maithripala Sirisena will visit India on Feb. 16, his first state visit abroad, a government official said on Wednesday, part of efforts to repair relations with New Delhi which soured under the previous government.
Sirisena earlier pledged to pursue a more global foreign policy in a break with his predecessor Mahinda Rajapaksa's pursuit of close ties with China, a key supporter of Sri Lanka's economy since its 26-year civil war ended in 2009.
"In considering the past, we make a clear commitment towards following a foreign policy of the middle path, in friendship with all nations," Sirisena said during a speech marking Independence Day.
Indian Prime Minister Narendra Modi tweeted he was looking forward "to welcoming President Sirisena later this month." Modi is scheduled to make a reciprocal trip in the second week of March, according to Sri Lankan government officials.
Sirisena's trip will last two days, the official told Reuters, declining to be identified.
Sri Lanka's January 8 elections unexpectedly ousted Rajapaksa and brought Sirisena, a former Rajapaksa ally, to power on a platform of rooting out corruption and bringing constitutional reforms to weaken the presidency.
Sirisena's administration has ordered a review of all Chinese infrastructure projects awarded under Rajapaksa, a move expected to sit well with India and Western nations concerned about Beijing's growing influence and military presence in the region.
Rajapaksa's decision to allow two Chinese submarines to dock in Sri Lanka last year angered India, as the move breached an existing agreement between the two countries.
In the run-up to the January vote, Sri Lanka expelled India's spy chief for helping to unite a fractious opposition to defeat Rajapaksa, according to diplomatic and political sources, although India denied any expulsion.
Sirisena's visit to India will mark the changing attitudes of both nations, said P. Sahadevan, a professor at Jawaharlal Nehru University in New Delhi.
"Earlier, though it was not displayed openly, there was quite a bit of antipathy from India toward the Rajapaksa regime," Sahadevan said. "That's gone."
Sirisena has also pledged to grant autonomy to the island's former northern war zone where members of the country's ethnic Tamil minority predominantly live, part of an agreement with India that the Rajapaksa government failed to fulfill.
(Reuters)
Latest Headlines in Sri Lanka