'US Ambassador offered me a bribe': Minister
Posted by Editor on December 6, 2014 - 10:38 am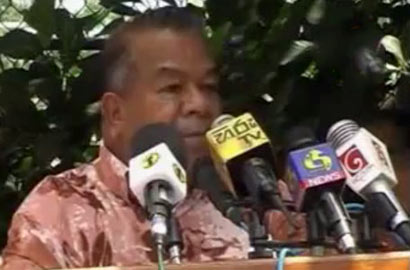 A Government Minister has claimed that he was offered a 'bribe' by outgoing US Ambassador Michele Sison.
Resettlement Minister Guneratne Weerakoon told a political meeting in Aranwela on Thursday that he had recordings of the discussion, to which the Secretary to his Ministry was also privy.
"She came to meet me and said I was a skilled Minister. She said I had done a good job with resettlement," the Minister said.
Minister Weerakoon said the Envoy had asked him to remove military camps in the north.
"I answered that it is not my job to do that. President Rajapaksa is the Commander-in-Chief. He will not allow the LTTE to raise its head again," the Minister revealed.
Referring to the US Envoy as "Michele Nona," Minister Weerakoon alleged that she was involved in pumping money to topple President Rajapaksa's Government.
"She told me she would give me and my family a green card and 'we will give you a house in the US, your children will get scholarships'. I replied that I was a man from the south and I didn't want what she was offering," he added.
The Minister said that his experience had shown that this was how foreign ambassadors were buying Government ministers.
There was no immediate reaction from the US Embassy to the Minister's remarks and allegations.
US Ambassador Sison leaves Colombo this weekend for her new posting in New York.
She will be posted as Deputy Ambassador to the UN in New York, where President Barack Obama's former National Security Advisor Samantha Power serves as Ambassador.
(Source: FT.lk)
Latest Headlines in Sri Lanka