US assures continued support to Sri Lanka after quitting UNHRC
Posted by Editor on June 21, 2018 - 10:42 am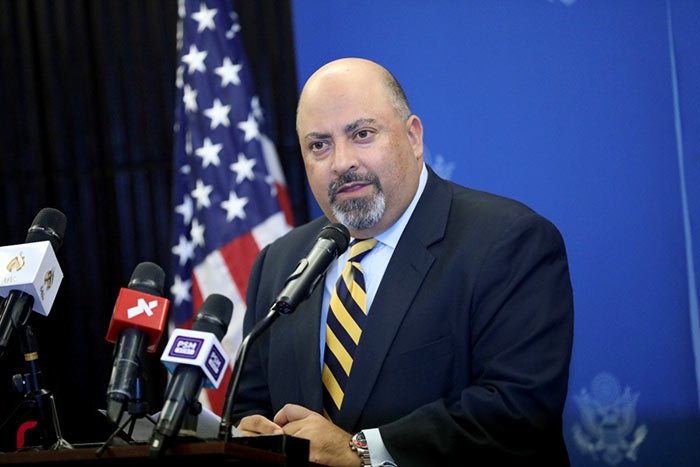 Following the announcement that the United States withdrew from the United Nations Human Rights Council, the US Ambassador in Colombo Atul Keshap has met with Sri Lankan officials to assure them continued support to fulfill commitments in the UNHRC resolution.
US Ambassador to the United Nations Nikki Haley announced the Trump administration's decision on Tuesday, accusing the UN Human Rights Council of bias against US ally Israel and a failure to hold human rights abusers accountable.
"Ambassador Keshap met with senior Sri Lankan officials to convey the assurance of the United States Government that we will remain fully engaged with the Sri Lankan Government to help it meet its continuing and standing commitments to the international community to advance the cause of reconciliation and lasting peace for all Sri Lankans," the US Embassy in Colombo said.
Sri Lanka co-sponsored with the United States two UN Human Rights Commission Resolutions: 30/1 in 2015 and Resolution 34/1 in 2017, and the United States said it continues to extend its support to Sri Lanka to fulfill these important commitments and obligations as articulated and reaffirmed in these resolutions.
"Sri Lanka's continued progress toward fulfillment of these international commitments will facilitate further growth of our bilateral relations and enhance Sri Lanka's ability to engage with friends and partners around the world," the statement said.
"We will follow Sri Lanka's progress closely and look ahead to engaging with Sri Lanka between now and March 2019 in the spirit of friendship that has marked our recent relations."
The United States said it will also support and expand bilateral partnership as Sri Lanka takes further steps outlined in the Geneva resolution.
(Source: Ada Derana)
Latest Headlines in Sri Lanka